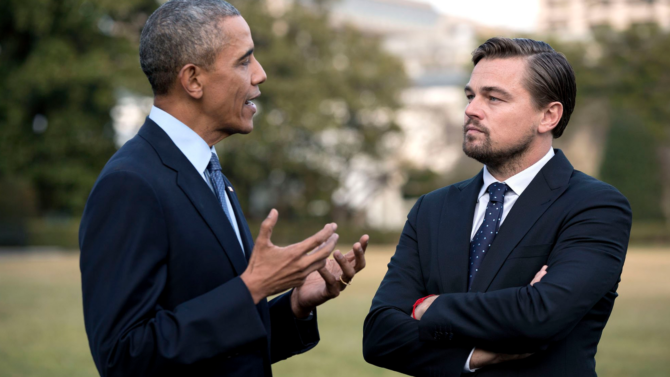 El presidente de los Estados Unidos, Barack Obama, se reunirá con el actor Leonardo DiCaprio para una conversación sobre el cambio climático el próximo lunes 3 de octubre, anunció la Casa Blanca.
La reunión incluirá a la climatóloga, Katharine Hayhoe y se realizará por South by South Lawn, una obra que refiere a un "festival de ideas, el arte y acción" que tiene lugar en la Casa Blanca.
VER TAMBIÉN Mira el video 'Unnecessary Censorship' que hizo Jimmy Kimmel de Barack Obama
La conversación girará en torno a "la importancia de proteger el único planeta que tenemos para las futuras generaciones", y será seguida por la proyección del documental de National Geographic de DiCaprio llamado Before the Flood, que hará su debut estadounidense en South Lawn.
Dicho documental fue dirigido por Fisher Stevens y narra la campaña internacional del protagonista de The Revenant para crear conciencia sobre los peligros del cambio climático como Embajador de la Paz ante Naciones Unidas. El actor también habló sobre este tema en su discurso de aceptación del Oscar en el pasado mes de febrero.
Además de DiCaprio, el evento South by South Lawn contará con la participación de algunos miembros del elenco de la serie de Netflix, Stranger Things, la banda The Lumineers, y Sharon Jones and the Dap Kings.