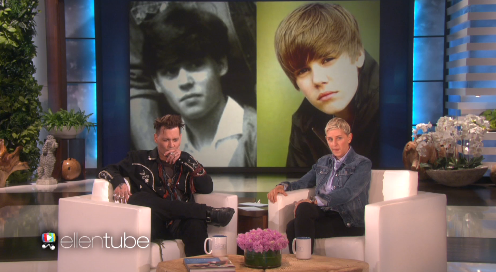 Ellen DeGeneres tuvo la oportunidad de entrevistar en su show a Johnny Depp, quien se encuentra en plena promoción de Alice Through The Looking Glass. En la plática, ambos famosos hablaron, entre otras cosas, de esos días cuando el actor estaba más concentrado en convertirse en músico más que en ninguna otra cosa, momento en el que la animadora aprovechó para develar una etapa de la vida del intérprete donde tenía un parecido físico muy fuerte con nada más y nada menos que Justin Bieber.
Al ver su foto al lado de la de Bieber al actor le costó negar el parecido que tenía en ese momento con el intérprete de "Sorry".
Acá puedes el gracioso momento:
El famoso de 52 años contó que solía en tocar en bares cuendo tenía 13 años. Como Donald Trump está en boca de todos, y Johnny lo interpretó hace ya unos meses en un sketch para Funny or Die, DeGeneres no pudo dejar pasar la ocasión para que el galardonado intérprete imitara al precandidato presidencial del Partido Republicano en el set, frente a la audiencia. Antes de hacerlo por breves segundos Depp acotó que interpretar al magnate fue muy difícil porque habla muy raro.
Alice Through the Looking Glass se estrena el 27 de mayo en cines estadodunidenses.