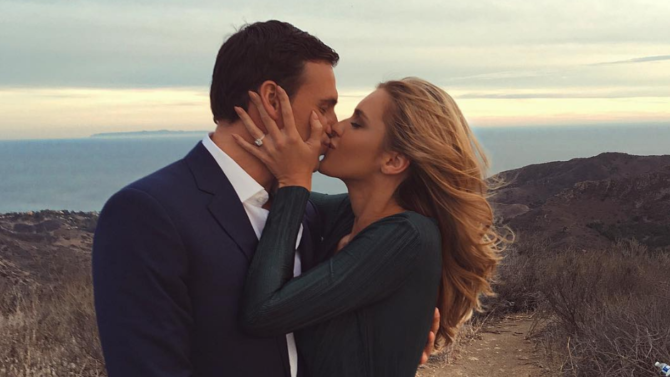 El nadador olímpico estadounidense Ryan Lochte se comprometió con su novia, la modelo de Playboy Kayla Rae Reid. Ambos publicaron fotos en sus cuentas de Instagram donde ella aparece con un espectacular anillo.
"¡¡¡Recuerdo para siempre!!!", escribió Lochte la noche del domingo 9 de octubre en el texto que acompaña la romántica foto en donde la pareja se besa con el Malibu Canyon de fondo.
Por su parte, Kayla escribió: "Sin palabras. Absolutamente hermoso. Estoy tan enamorada de TI", en la imagen donde toma la cara de su prometido para besarlo, presumiendo el gran anillo de compromiso.
VER TAMBIÉN Las nuevas parejas del 2016 [FOTOS]
De acuerdo con TMZ, la pareja comenzó a salir en marzo pasado y en abril el medallista olímpico de oro ya le estaba presentando a su novia de 25 años a sus padres.
Lochte, de 32 años, estuvo en el escrutinio público este año no solo por su desempeño en las Olimpiadas de Río de Janeiro, sino por el escándalo que causó por haber mentido que  él y sus compañeros habían sufrido un asalto en la ciudad carioca.
Pese a que luego ofreció disculpas, perdió importantes sponsors. Ahora está participando en la competencia de baile televisiva Dancing With The Stars.