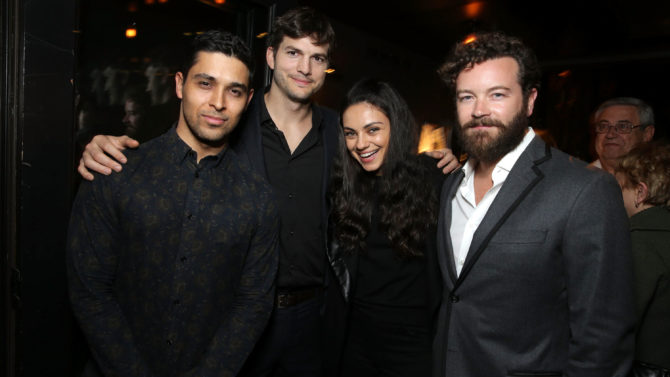 Wilmer Valderrama, Ashton Kutcher, Mila Kunis y Danny Masterson, quienes fueron parte del elenco de That 70's Show, tuvieron un mini reencuentro durante una proyección especial de la nueva serie de Kutcher, que se estrenará por Netflix, titulada The Ranch.
Los actores y ex compañeros de set posaron sonrientes para un par de fotos en este evento organizado por el popular servicio de streaming. 
En The Ranch, Kutcher, de 38 años, y Masterson, de 40, se vuelven a reunir frente a las cámaras y esta vez interpretan a dos hermanos en esta nueva comedia que se estrena el 1 de abril.

La historia de este sitcom gira en torno a la vida de Colt Bennett (Kutcher), un jugador semi profesional de fútbol americano, quien tras 15 años de ausencia regresa a su hogar en Colorado para ayudar con el negocio familiar. Masterson interpreta al hermano de Colt, Rooster. Los padres de estos dos personajes están a cargo de los actores Sam Elliott y Debra Winger.
The Ranch lanzará dos temporadas del show al mismo tiempo las cuales estarán divididas en dos tandas de 10 episodios.