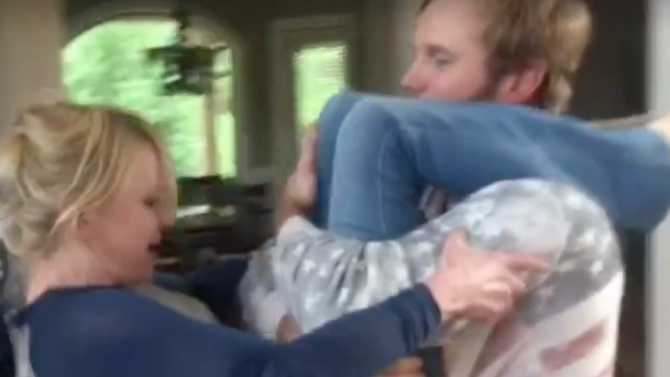 Chris Pratt  y Anna Faris dejaron por un momento la filmación de películas y se pusieron a practicar movimientos de lucha libre con un profesor de lujo: Dave Bautista.
VER TAMBIÉN Jenna Dewan-Tatum le da 'sensuales' lecciones de baile a Anna Faris [VIDEO]
Es que la actriz de Just Friends tiene otro plan en caso de que la actuación no funcione, y es ver con convertirse en experta en lucha libre. En su cuenta de Instagram publicó un video donde se le ve junto a su marido recibiendo instrucciones del exprofesional de la WWE y artista de las artes maricales mixtas del apodado Drax the Destoyer.
"Mi plan de respaldo: ser luchadora profesional entrenada por @davebautista y @prattprattpratt @unqualified Tan afortunada de no haberme roto el cuello. ¡Gracias chicos!", escribió Faris en el texto que acompaña el video.
VER TAMBIÉN Muere luchador de la MMA, Kimbo Slice
En el clip, la comediante tiene que doblarse de una manera muy rara para que marido pueda voltearla y subirla a sus hombros. "Estamos en pisos de madera. Esta es una idea horrible", comenta y advierte.
Pero la "pirueta" resulta exitosa y Faris termina con sus piernas alrededor del cuello del protagonista de Guardians of the Galaxy 2, por lo que este festeja de una forma pícara y agarra los senos de su mujer Ella luego le responde con un cariñoso beso.
 Faris también compartió con sus seguidores de la red social de su blog Unqualified, una foto donde posa con Bautista: