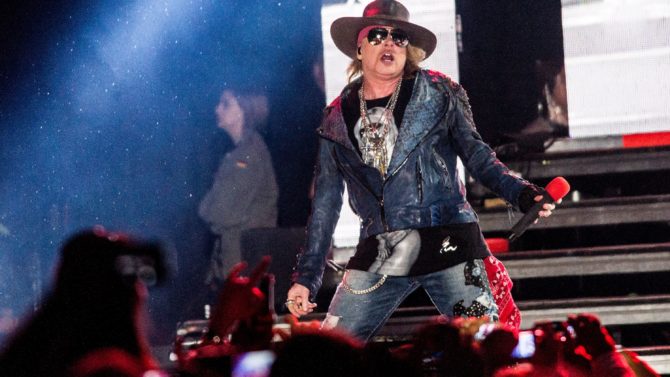 ¿Pensaste que la fractura que sufrió Axl Rose en su pie izquierdo iba a detener el regreso de la mítica banda? Te equivocas. Este 8 de abril, Guns N' Roses brindó su primer gran concierto en Las Vegas, y Axl cantó el set sentado en el trono que usó Dave Grohl, vocalista de Foo Fighters, cuando sufrió una lesión similar en plena gira de presentaciones.
El cantante de "You Could Be Mine" se fracturó el pie durante un concierto sorpresa brindado el 1 de abril en The Troubadour, un bar de West Hollywood, California. Rose anunció la noticia a través de su cuenta de Twitter, bromeando que esto es "lo que te pasa cuando haces algo que no habías hecho en casi 23 años".
Pero, cuando eres una de las figuras más relevantes del rock y has hecho a tus fanáticos esperar dos décadas para una reunión que parecía imposible, cancelar las fechas no es una opción. Especialmente cuando tienes a  Slash y Duff McKagan, miembros originales de la legendaria agrupación, embarcados en la gira de reencuentro.
Grohl, uno de los chicos buenos del rock, le prestó su trono de guitarras a Axl para este esperado regreso. Después de la interpretación del clásico tema "It's So Easy", el cantante bromeó sobre la situación, preguntándole a la audiencia si le gustaba su "silla", agregando que se lo había prestado un amigo.
Aquí puedes apreciar a Axl desde su trono, en todo su esplendor:
Si eres fan de esta banda, ármate de valor y lee el setlist completo de este primer concierto en el T-Mobile Arena de Las Vegas:
01. "It's So Easy"
02. "Mr. Brownstone"
03. "Chinese Democracy"
04. "Welcome To The Jungle"
05. "Double Talkin' Jive"
06. "Estranged"
07. "Live And Let Die" (Paul McCartney & Wings cover)
08. "Rocket Queen"
09. "You Could Be Mine"
10. "New Rose" (The Damned cover)
11. "This I Love"
12. "Coma"
13. "The Godfather Theme" (Slash)
14. "Sweet Child O' Mine"
15. "Better"
16. "Civil War"
17. "Wish You Were Here" (Richard Fortus and Slash)
18. "Layla" (outro)
19. "November Rain"
20. "Knockin' On Heaven's Door" (Bob Dylan cover)
21. "Nightrain"
Encore:
22. "Patience"
23. "Paradise City"