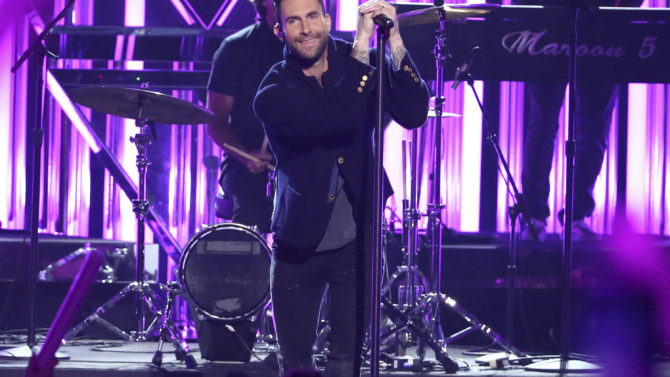 Para cerrar la noche de la edición 44 de los American Music Awards, que se llevaron a cabo el 20 de noviembre en el Microsoft Theater de Los Ángeles, la banda Maroon 5 interpretó el nuevo sencillo "Don't Wanna Know" junto a Kendrick Lamar.
VER TAMBIÉN: Bruno Mars pone a todo el mundo a bailar en los American Music Awards 2016
La última presentación de la noche resultó ser muy sencilla. La escenografía se mantuvo minimalista al punto de que en el escenario, aparte de los músicos, solo había algunas luces de fondo.
Lamar apareció al final de la canción, con un suéter gris y bailó un poco de rap junto al vocalista del grupo, Adam Levine.
Otras de las presentaciones de los AMAs estuvieron a cargo de Bruno Mars, Shawn Mendes, Nicki Minaj, Ariana Grande, Justin Bieber, Twenty One Pilots y el veterano Sting, quien recibió el premio "The American Music Award of Merit" por sus contribuciones a la industria de la música.
Los ganadores de los American Music Awards son elegidos en su totalidad por los fanáticos, quienes votan por sus cantantes favoritos en una variedad de categorías.
RELACIONADO: Ariana Grande y Nicki Minaj cantan 'Side to Side' en los AMAs 2016 [VIDEO]
La modelo Gigi Hadid y el actor y comediante Jay Pharoah fueron los conductores de la ceremonia de premiación en la que Heidi Klum, Karlie Kloss, Zoe Saldana, Teyana Taylor, Steven Yeun, Robert Downey Jr., Taraji P. Henson, Ciara, Julianne Hough, Matt Bomer y Nina Dobrev presentaron a los ganadores en las diferentes categorías.