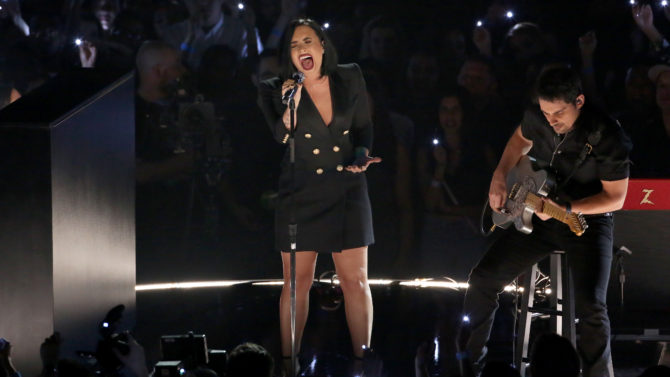 La tercera entrega anual de los iHeartRadio Music Awards, celebrada este domingo 3 de abril en el anfiteatro The Forum de Los Ángeles, estuvo llena de ritmo y mucho baile.
El encargado de abrir la ceremonia fue Justin Bieber, quien enamoró al público con sus temas "Love Yourself" y "Company". El cierre estuvo a cargo de Iggy Azalea, quien trajo su "Team" al escenario. Pero hay que decir que toda la entrega estuvo repleta de muy buenas actuaciones.
Aquí te mostramos GIFs y videos de algunos de los mejores momentos de la noche:
La apertura de Justin Bieber.
Los movimientos de Chris Brown al interpretar sus temas "Wrist" y "Anyway".
Demi Lovato impactó con su tremenda voz al interpretar su tema "Stone Cold" con Brad Paisley a la guitarra. Definitivamente uno de los highlights de la noche.
Fetty Wap llegó al escenario en una cuatrimoto para interpretar su tema "Again".
Aunque no pudo estar presente, The Weeknd se presentó en vivo desde los Juno Awards en Canadá. Así pudimos disfrutar de su interpretación de "Acquainted" y Might Not".
Ese momento en que Selena Gómez le entregó el premio como Mejor álbum del año a su bff, Taylor Swift, por 1989.
El presentador de la noche, Jason Derulo, nos dejó boquiabiertos con sus pasos de baile tanto durante la apertura del show como durante la presentación de su nuevo sencillo, "If It Ain't Love", que cantó por primera vez en vivo.
¡Muy merecido el premio especial Innovator Award que recibió la banda U2!
Bebe Rexha interpretó junto a G-Eazy su popular tema "It's just me, myself & I!".
Ese momento en que Nick Jonas bajó del escenario, durante la presentación de su grupo DNCE y se acercó a Demi Lovato, su bff y futura compañera en la gira Future Now.
Zayn arrancó suspiros y gritos con su tema "Like I Would", que interpretó en vivo por primera vez.
Iggy Azalea cerró con broche de oro con su nuevo sencillo, "Team".