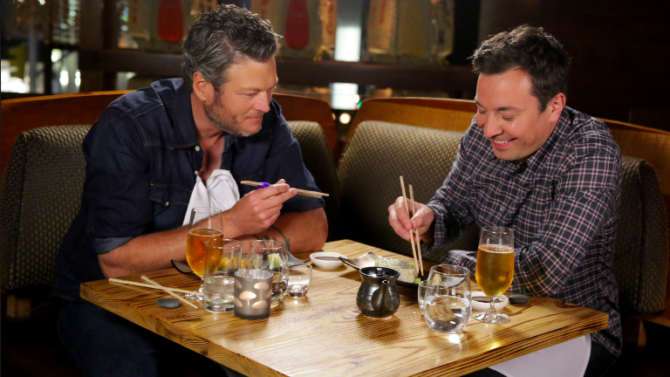 Por el motivo que sea, la primera vez siempre es inolvidable, y si tienes la suerte de Blake Shelton de probar sushi con una celebridad como Jimmy Fallon, seguro que tendrá un sabor distinto.
El cantante de música country y pareja de Gwen Stefani, nunca había comido sushi así que el presentador de The Tonight Show Starring Jimmy Fallon se encargó de que viviera a lo grande su primera experiencia.
VER TAMBIÉN Billboard Music Awards 2016: Gwen Stefani y Blake Shelton cantan a dúo 'Go Ahead and Break My Heart' [VIDEO]
Durante el programa del martes 24 de mayo, Fallon llevó a Shelton al popular restaurante japonés-peruano Nobu, para iniciar al cantante en el variado mundo del pescado crudo, además del sake y el jengibre.
En el gracioso video, el juez del programa  The Voice, quien se encuentra promocionando su nuevo álbum If I'm Honest, accedió a los caprichos del presentador para degustar sushi de una vez por todas.
Pese a que estaba reticente a experimentar su primer sushi, poco a poco  la experiencia resultó ser del agrado de Shelton, aunque en ocasiones llegó a describir esta comida como "chicle premasticado", "con sabor a plastilina",  o "con apariencia de lengua humana".
VER TAMBIÉN Blake Shelton lanza marca de vodka 
Para culminar y premiar a Shelton por su increíble disposición, Fallon consiguió traer a la mesa un par de ….Big Mac, que sin duda fueron la mejor parte del banquete para el músico a juzgar por su alegre respuesta.