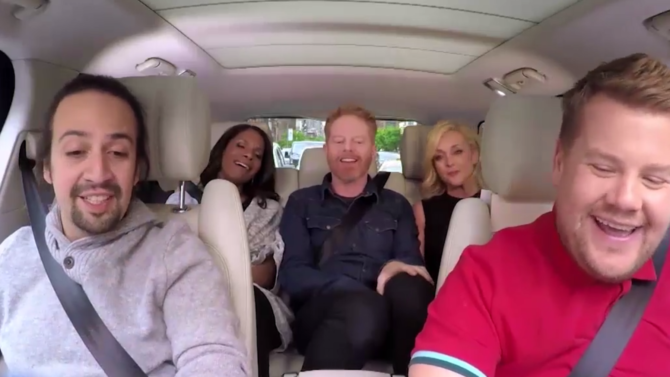 Cuando pensábamos que el Carpool Karaoke de James Corden no nos podía hacer más felices, nos encontramos con Lin-Manuel Miranda junto a Audra McDonald, Jesse Tyler Ferguson y Jane Krakowski.
En un adelanto se puede ver al actor de ascendencia puertorriqueña, y creador de la obra Hamilton, como el pasajero principal de este viaje. Luego se le unen el resto de los actores, quienes también tienen espectáculos en Broadway.
Este nuevo episodio de Carpool Karaoke se estrenará esta noche, lunes 6 de junio, en The Late Late Show.
Audra McDonald es la protagonista del musical Shuffle Along, Or, The Making of the Musical Sensation of 1921 and All That Followed, mientras que Ferguson continúa añadiéndole fechas a su comedia Fully Committed. Por su parte, Krakowski es una de las actrices principales de la obra She Loves Me.
James Corden unió a estas cuatro estrellas de Broadway ya que él será el anfitrión de la ceremonia de los premios Tony. La misma se llevará a cabo el próximo domingo 12 de junio en el Beacon Theater, en Nueva York.
Los Tony celebran logros en el teatro estadounidense, específicamente las obras que se han presentado en los teatros de Broadway. La producción de Miranda rompió el récord de nominaciones y llegará a la ceremonia con la posibilidad de ganar 16 premios.