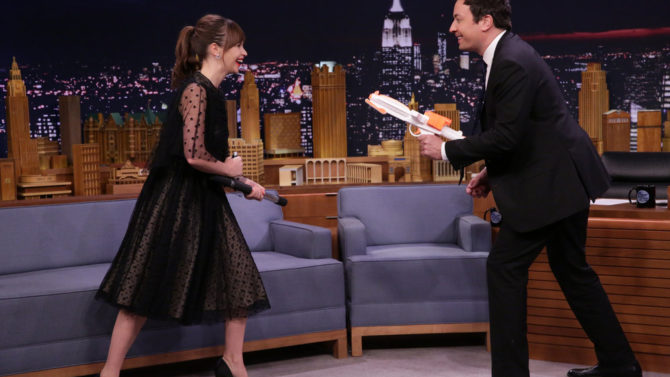 Felicity Jones estuvo nominada al premio Oscar en el 2015 por su papel en The Theory of Everything, y aunque no resultó ganadora, trabajo tiene de sobra. Esta fue su primera nominación a los premios de la Academia.
Para ella lo mejor de esto, según dijo en The Tonight Show fue el siguiente día, ya que estaba libre, y todo lo que antecede al evento es de mucha tensión.
Jimmy Fallon le mostró el tatuaje que un hombre se había hecho en una pierna, de su personaje de Jyn Erso en la película Rogue One: A Star Wars Story. Su reacción fue pensar en que le iba salir barba, cuando el vello de la pantorilla empezara a crecerle.
Ante la pregunta de cómo se preparó para decir la famosa frase de Star Wars, 'may the force be with you', la británica expresó que con mucha práctica, y que además tiene que ser algo muy específico y sin excederse.
RELACIONADO Diego Luna asegura que su papel en 'Rogue One' lo unió con su hijo
Asimismo, para interpretar a su personaje en la nueva entrega de esta franquicia, Jones se preparó con una maestra de Kung Fu, quien le enseñó movimientos para aprender a pelear, y que a su vez, Jones pudo compartir en vivo con Fallon.