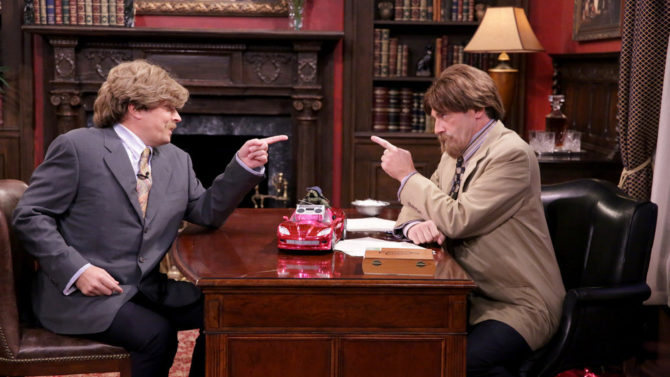 Jon Hamm estuvo en The Tonight Show este viernes 14 de octubre, hablando de su nueva película y recordando la época en la que trabajo supuestamente con Jimmy Fallon.
Hamm participó en la obra de Broadway "Oh, Hello", y confesó que había aceptado participar en la puesta en escena vía mensaje de texto, así, súper profesional. Pero no solo eso, sino que cuando le pidieron confirmación escrita envió un emoji del pulgar arriba, y el del gesto de OK.
El actor de Mad Men está promocionando la película Keeping Up with the Joneses, que estrena en teatros el 21 de octubre. Jon le dijo a Jimmy Fallon que fue un trabajo muy divertido, ya que se conoce desde hace 20 años con Zach Galifianakis. Además, es el tipo de película que "puedes ir a verlo con mi tia y regresar a casa de manera cómoda", opinó el actor, explicando que como es una comedia, no va a haber esos silencios o momentos incómodos después de ver la cinta.
Fallon y Hamm grabaron unos sketches de la telenovela In the Dusk of Night, donde supuestamente había trabajado con Jimmy. Ham afirmó que gracias a este trabajo le habían dado su papel en Mad Men.