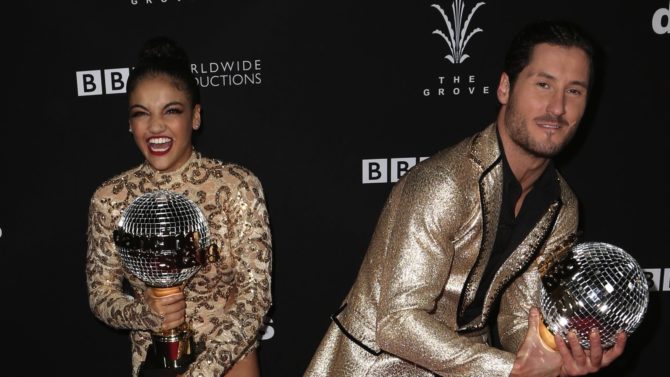 La gimnasta Laurie Hernández se convirtió el martes en la noche en la ganadora de Dancing With the Stars en su temporada número 23. Fue la atleta de ascendencia puertorriqueña quien recibió el trofeo Mirror Ball junto al bailarín Val Chmerkovskiy.
Desde el principio de esta temporada, Hernández se destacó siempre. Con solo 16 años, sus destrezas para el baile impresionar tanto al público como a los jueces de esta temporada: Len Goodman, Carrie Ann Inaba, Bruno Tonioli y Julianne Hough.
Así las cosas, y para celebrar la victoria de Laurie Hernández, hoy hacemos un repaso de sus presentaciones en la edición de Dancing With the Stars que acaba de culminar.
Tipo de baile: Cha Cha
Canción: "American Girl" de Bonnie Mckee 
Tipo de baile: Tango
Canción: "Into The Sunset (Headhunterz Radio Edit)" de Crystal Lake feat. KiFi
Tipo de baile: Jive
Canción: "Duck Tales" de The Disney Afternoon Studio Chorus
Tipo de baile: Jazz
Canción: "The Way You Make Me Feel" de Michael Jackson
Tipo de baile: Paso
Canción: "Rise" de Katy Perry
Tipo de baile: Salsa
Canción: "Light It Up (Remix)" de Major Lazer ft. Nyla & Fuse ODG
Tipo de baile: Tango
Canción: "Cell Block Tango" de Chicago
 RELACIONADO: Gimnasta Laurie Hernández publicará sus memorias