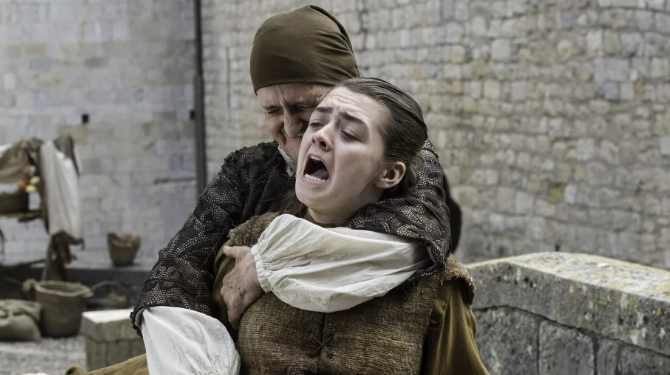 Home Box Office Inc. (HBO) ha hecho público un video que da más de una clave acerca del próximo capítulo de Game Of Thrones.
Antes que nada, te avisamos de que este artículo puede contener spoilers, así que no estás al día con la serie o todavía no viste el capítulo de la semana pasada, no digas que no te hemos avisado.
VER TAMBIÉN 'Game Of Thrones': los 3 momentos más impactantes del episodio 7 [VIDEOS]
El episodio 7 de la sexta temporada, que se emitió el pasado domingo, nos dejó a todos con el corazón en un puño cuando la pequeña de la familia Stark es apuñalada por the waif, bajo mandato de Jaqen H'ghar. La joven decidió una vez más no seguir las instrucciones del Hombre sin Rostro al negarse a envenenar a una actriz del pueblo.
Apuñalada varias veces en el estómago por otra aprendiz del alquimista de Braavos, Arya logra escapar lanzándose al río. Lo último que pudimos ver es que Arya logra salir del río y arrastrarse unos pocos metros, pero la trama de George R. R. Martin nos dejó en vilo acerca de si la muchacha sobrevivió.
VER TAMBIÉN Emilia Clarke y otros miembros del elenco dicen cómo quieren que termine 'Game Of Thrones'
El anticipo del próximo episodio nos da a entender que Arya Stark todavía tiene mucho que decir y, con lo que llevamos de serie, sabemos que la muerte no es impedimento alguno para un personaje de Game of Thrones siga dando de qué hablar.
Solo queda esperar hasta el próximo domingo para saberlo con certeza. Hoy es miércoles ¡así que la espera no es muy larga!