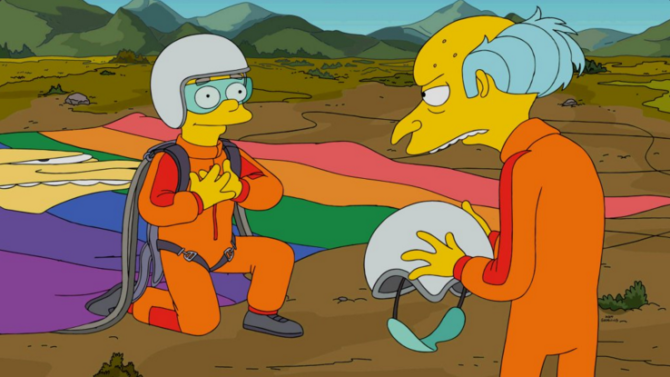 Tras 27 temporadas llenas de ambigüedad sexual por parte del personaje de Waylon Smithers en The Simpsons, la fiel mano derecha de Mr. Burns reveló -finalmente- su homosexualidad en el episodio titulado "The Burns Cage".
Smithers confesó estar enamorado de Mr. Burns, el dueño de la famosa planta nuclear de Springfield. Como su amor no es correspondido, decide abandonar su puesto de trabajo para así comenzar una nueva vida. 
Aquí es donde entra Homer a la ecuación, quien decide ayudar a Smithers a encontrar el amor. Es por ello que celebra una fiesta en su casa, con homosexuales del vecindario, para buscarle pareja a Smithers. De hecho, el actor de Star Trek, George Takei, activista de la comunidad LGBT, también participó en este capítulo.
Smithers logra congeniar y enamorarse de Julio, un personaje recurrente en la serie, pero su amor por Mr. Burns es tal que decide regresar a trabajar al lado de su eterno crush.
El libreto de este episodio se empezó a gestar hace unos dos o tres años, cuando el guionista Rob Lazebnik comenzó a desarrollarlo a partir de la historia de su hijo homosexual de 21 años: "¿Existe una mejor manera de decirle a mi hijo que lo quiero que escribiendo sobre él?", explicó el escritor en una entrevista con The New York Post.
¿Te imaginabas que Smithers saldría del armario?