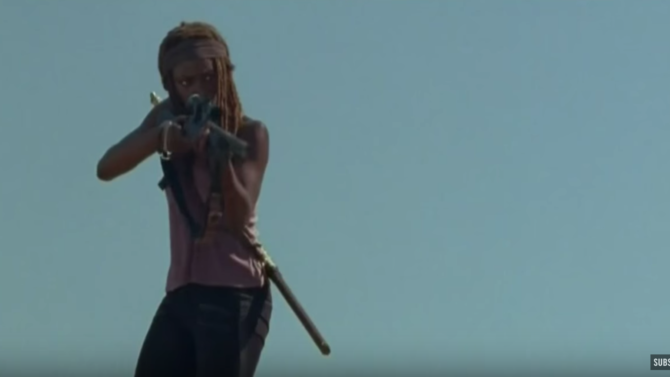 El primer episodio de la séptima temporada de The Walking Dead fue escalofriante y el siguiente promete ser más atrapante, con un Rick (Andrew Lincoln) sometido ante la tiranía y maldad de Negan (Jeffrey Dean Morgan), quien ha encerrado al grupo en sus dominios.
'The Well' es el nombre del segundo episodio que transmitirá AMC el próximo domingo 31 de octubre y en donde veremos a Rick que le dice a su fiel grupo "Permítanme decirles esto tan claro como pueda. Ya no estoy más a cargo" y a Negan que les repite: "Ahora ustedes trabajan para mi".
VER TAMBIÉN El elenco de 'The Walking Dead' en el estreno de su séptima temporada [FOTOS]
Otra de las imágenes del adelanto muestra a la valiente Michonne (Danai Gurira) disparando un rifle hacia algún sitio…o persona.
En el primer episodio de la séptima temporada transmitido el domingo 23 de octubre finalmente supimos quién fue el personaje que murió a manos de Negan y su bate de alambre de púas apodado 'Lucille': Abraham (Michael Cudlitz).
Pero esa no fue la única muerte que hubo en el episodio llamado 'The Day Will Come When You Won't Be'. Glenn (Steven Yeung) también fue asesinado sin misericordia por Negan como respuesta a un ataque de furia de Daryl (Norman Reedus) y ante su desconsolada y enferma esposa Maggie (Lauren Cohan).
VER TAMBIÉN 'The Walking Dead' tendrá una octava temporada
En otro adelanto de 'The Well' veremos a una nueva comunidad bien establecida que es dirigida por una especie de rey,  en donde Morgan (Lennie James) lleva a Carol (Melissa McBride), que está en sillas de ruedas, a conocer al líder del Kingdom (Reino, en español).
The Walking Dead, serie basada en la historieta de Robert Kirkman, se trasmite todos los domingos a las 9/8c por AMC.