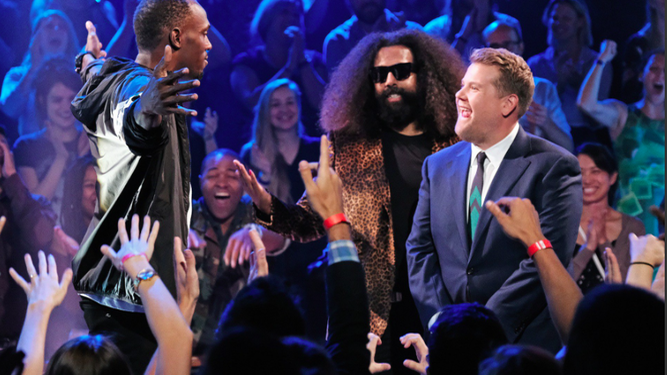 El velocista Olímpico jamaiquino Usain Bolt demostró la noche del miércoles que no solo tiene talento en la pista de carreras, sino que también puede rapear.
"El hombre más rápido del planeta" fue uno de los invitados a la más reciente edición del programa de James Corden, The Late Late Show. Fue ahí donde formó parte del "Drop The Mic", una batalla de rap.
"Después de todas esas carreras que ganaste en Brasil, estás a punto de perder ante un hombre parado. Los atletas no son buenos en matemáticas, entonces espero que esto ayude. Tú tienes 14 medallas menos que Michael Phelps. Dime qué se siente tener una carrera que a la gente solo le importa una vez cada cuatro años", comenzó Corden, quien se llevó los aplausos del público.
Sin embargo, Bolt no se quedó atrás, y respondió: "Tú crees que eres una estrella, pero pocos te conocen, mucha gente de la que está aquí cree que está viendo el show de Kevin James. Yo corro mi carrera en 10 segundos, eso es lo que tú duras en la cama… Yo tengo nueve medallas de oro. Tengo una por cada vez que tú tuviste sexo".
La batalla terminó entre risas y, al final, los aplausos del público escogieron a Bolt como el ganador del encuentro.