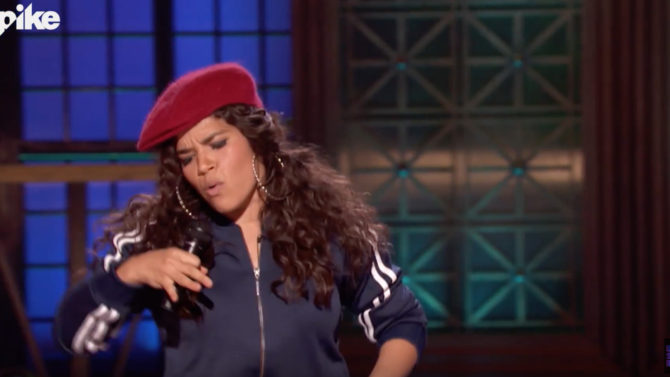 América Ferrera y Amber Tamblyn se enfrentarán en una nueva batalla musical durante el próximo episodio del popular programa Lip Sync Battle que se transmitirá este 20 de octubre a través de Spike. La cadena publicó un adelanto del episodio en el que vemos los dotes de Ferrera como artista de hip-hop.
VER TAMBIÉN Ben Kingsley canta 'Rocketman' en 'Lip-Sync Battle' [VIDEO]
En el video América 'rapea' la famosa canción de Missy Elliott  "Gossip Folks", por lo cual eligió un atuendo muy deportivo que complementó con unos llamativos pendientes y una gorra que lució con su cabello suelto y al natural.
Mientras dobla la canción, el presentador del show, LL Cool J, y su compañera de elenco en The Sisterhood of the Traveling Pants la miran muy animados a un lado de la tarima.
Aunque aún no hemos visto un adelanto de la presentación de Tamblyn, sabemos que la actriz se disfrazó de Donald Trump para su número en el show. Así lo muestra un sneak peak que compartió a través de su cuenta de Instagram en el que vestida como el candidato a la presidencia le baila sensualmente a Ferrera, quien no puede evitar su disgusto.
VER TAMBIÉN América Ferrera llora al hablar con inmigrantes indocumentados en 'America Divided' [VIDEO]
Por lo visto esta batalla de lip-sync está como para alquilar balcón.