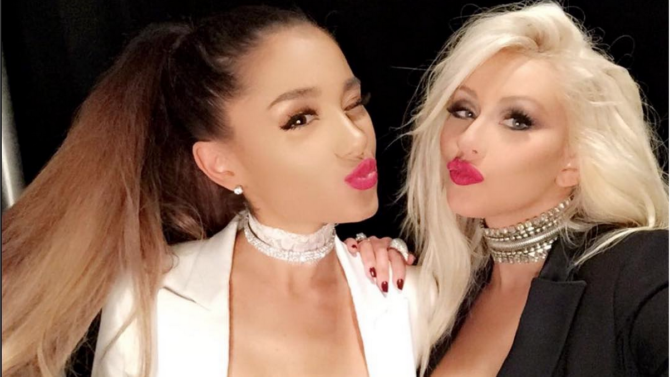 Ariana Grande y Christina Aguilera hicieron vibrar el escenario de The Voice, al unir sus voces para interpretar la canción "Dangerous Woman", de Ariana, durante la gran final de la décima temporada de la popular competencia de canto, la noche del martes 24 de mayo.
Rodeada de bailarines y luciendo un elegante traje sastre blanco con gargantilla de brillantes a juego y su icónica cola de cabello, la cantante de 22 años inició su actuación interpretando su nuevo sencillo "Into You", una de las canciones más hot del año.
Hacia el fina de la canción, la música se fue poniendo cada vez más lenta, dando paso a que Ariana empezar a cantar el primer sencillo de su tercer álbum, "Dangerous Woman". Fue entonces cuando, rodeada por un grupo de bailarinas, Christina apareció en el escenario luciendo un ajustado traje sastre negro que mostraba su figura y su cabellera alborotada.
La gran final de la décima temporada de The Voice estuvo repleta de excelentes actuaciones en vivo.
La banda de música country Little Big Town abrió el show con su nuevo tema, "One of Those Days". Blake Shelton también tomó el escenario para interpretar su tema "She's Got a Way with Words", que se desprende de su más reciente álbum, If I'm Honest. Uno de nuestros favoritos, Zayn Malik, hizo suspirar a más de una con su tema "Like I Would", mientras que el ex-coach Cee Lo Green regresó a este escenario para cantar su tema "Crazy" a dúo con la finalista Hannah Huston. La cantante Sia también dejó su huella en este escenario, al interpretar su tema "Cheap Thrills", acompañada por la coreografía de la estrella de la serie de Lifetime Dance Moms, Maddie Ziegler.
Al final, Christina Aguilera se convirtió en la primera coach femenina que gana esta competencia de canto, cuando Alisan Porter, de Team Christiana, resultó la ganadora.
¡Felicidades sobre para Christina!