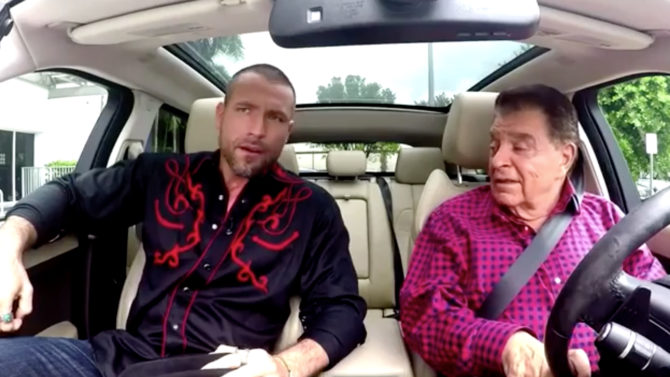 Este domingo se estrena por Telemundo el nuevo programa de variedades Don Francisco Te Invita, por lo que Aurelio Casillas, el temido señor de los cielos, decidió caerle de sorpresa al famoso conductor chileno en su auto, como lo muestra un divertido video promocional, muy al estilo del popular segmento "Carpool Karaoke".
El famoso personaje interpretado por Rafael Amaya dejó frío a Don Francisco, quien no supo qué hacer al verlo dentro de su auto. Casillas por su parte fue al grano y le dijo al presentador que si era verdad que "por ahí andaban diciendo que él era el más grande de Telemundo".
VER TAMBIÉN Don Francisco: El hombre detrás de la pantalla
Para no alterar los ánimos, el veterano de la televisión simplemente se limitó a decir, "bueno, bueno, no tanto. Cada uno es el más grande en lo suyo", lo cual calmó al temido capo, quien procedió entonces a preguntarle al comunicador por su nuevo show.
Don Francisco no desperdició la oportunidad y empezó a contarle que se trata de un programa de variedades en el que contará con celebridades invitadas y números musicales a cargo de reconocidos artistas. Tras indicar que el show será transmitido después de la serie Hasta que te conocí, basada en la vida de Juan Gabriel, Casillas aprovechó para poner una de las canciones del Divo de Juárez, lo que desató un momento digno del segmento creado por James Corden, en el que ambos entonaron juntos la letra de "Querida".
VER TAMBIÉN Rafael Amaya revela detalles de su actuación en Queen of the South [EXCLUSIVA]
Tras su momento musical, Casillas decide bajarse del auto, no sin antes dejarle su sombrero al chileno, como amuleto de la buena suerte. Mira el video completo a continuación.