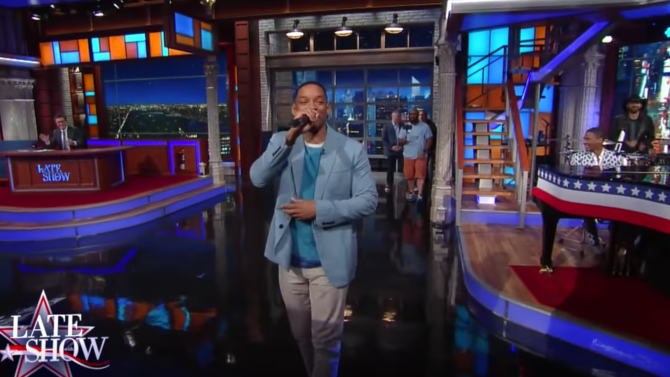 Will Smith volvió a mostrar su talento para cantar en el programa The Late Show with Stephen Colbert, donde interpretó su hit de 1991,"Summertime".
El actor estuvo acompañado por Jon Batista y su grupo Stay Human que tocaron la canción creada por DJ Jazzy Jeff y Fresh Prince en forma de un suave rap junto a Smith.
VER TAMBIÉN Will Smith rapea su canción "Miami" acompañado por el elenco de 'Suicide Squad'[VIDEO]
Smith también se puso filósofo con Colbert en el habitual segmento del show llamado 'Big Questions With Even Bigger Stars' que se hace con el invitado y el conductor recostados sobre una manta.
"'Stephen, ¿cómo quisieras ser recordado por tus tataranietos?', preguntó el actor al presentador. 'Creo que me gustaría que piensen como si todavía estuviera vivo', respondió Colbert. Luego él le preguntó a Smith: 'Con todos estos nuevos avances médicos, ¿cuánto tiempo crees que los seres humanos sean capaces de vivir?' Y él contestó: 'No lo suficiente como para ver toda tu lista de Netflix'".
Este próximo viernes 5 de agosto se estrena la más reciente película protagonizada por Will Smith, Suicide Squads, donde también actúan Jared Leto, Cara Delevingne, Jay Hernández, Margot Robbie, y Karen Fukuhara, entre otros actores.