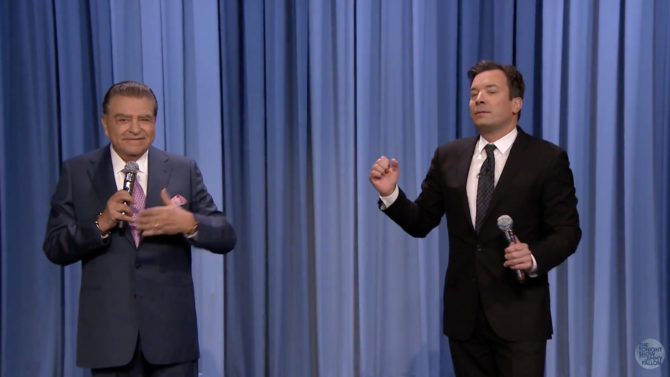 Don Francisco demostró nuevamente que el canto se le da muy bien durante el más reciente episodio de The Tonight Show, donde cantó en inglés junto al presentador Jimmy Fallon.
Poco antes de culminar la emisión de su show del 1 de noviembre, Fallon empezó a leer algunas sugerencias de los televidentes de cosas que les gustaría ver en su programa y una de ellas era invitar al legendario conductor chileno.
VER TAMBIÉN Aurelio Casillas, "el señor de los cielos", da un paseo en auto con Don Francisco [VIDEO]
"Me encanta Don Francisco, es una leyenda, me encantaría tenerlo aquí", indicó Fallon. "Pero desafortunadamente no hay manera de traerlo aquí ahora mismo", señaló, causando reacciones de decepción entre el público.
"Bueno hay una manera", explicó el exintegrante de Saturday Night Live. "Dice la leyenda que él puede ser invocado con el poder de la canción", aseguró antes de tomar su micrófono y desplazarse al escenario para cantar el tema "To All the Girls I've Loved Before", de Willie Nelson y Julio Iglesias.
En medio de la canción el conductor de Don Francisco Te Invita apareció en el escenario para cantar a dúo con su colega, generando aplausos entre los presentes. Al finalizar su interpretación, ambos presentadores se abrazaron y despidieron juntos el show.
VER TAMBIÉN Jon Hamm y Jimmy Fallon actúan juntos en una telenovela
Vale la pena aclarar que Mario Kreutzberger, nombre real del presentador, no es un cantante amateur. Durante su carrera en los medios de comunicación ha lanzado seis discos, el más reciente de ellos en el 2004.