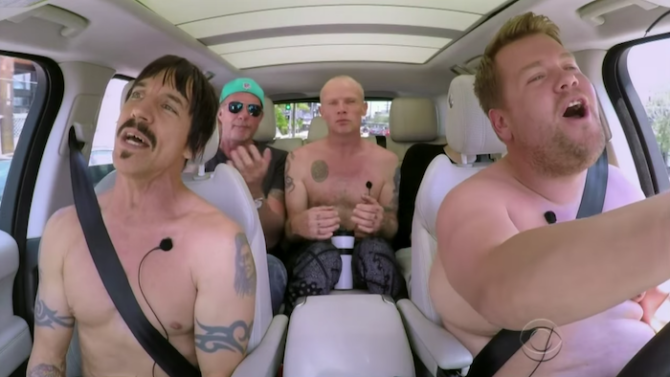 En el popular segmento "Carpool Karaoke" de James Corden los artistas se liberan y divierten, y este 13 de junio le tocó el turno a la banda californiana Red Hot Chili Peppers, cuyos 4 integrantes se quitaron sus respectivas camisas y hasta hicieron wrestling con el animador.
VER TAMBIÉN Lin-Manuel Miranda rinde homenaje a Broadway en 'Carpool Karaoke' [VIDEO]
El líder del grupo Anthony Kiedis, el bajista Flea, el baterista Chad Smith, y el guitarrista Josh Klinghoffer se unieron a Corden en un excéntrico viaje en auto que incluyó el canto de éxitos como "Can't Stop", "Give It Away",  "Californication",  "Under the Bridge", y "By the Way", así como el nuevo sencillo "Dark Necessities", que está incluido en la nueva producción discográfica de la banda, pronta a estrenarse, titulada The Getaway.
En el camino también hubo una versión de "Food Glorious Food" del musical inglés Oliver!; un combate de lucha libre en el jardín de una casa; una historia de dos fans luchando entre sí con sus prótesis de piernas durante un festival en Holanda, una versión sin camisa de "The Zephyr Song",  y el relato de una anécdota de cuando Cher cuidaba a Kiedis cuando era un niño.
VER TAMBIÉN James Corden en la apertura de los Tony Awards: "El odio nunca ganará" [VIDEO]
El segmento "Carpool Karaoke" de The Late Late Show se ha convertido en uno de los sketches más populares del show de televisión, donde Corden canta mientras conduce un vehículo en donde ya lo acompañaron famosos como Sia, Justin Bieber, Demi Lovato, Nick Jonas, Lin-Manuel Miranda y Adele, entre otros.