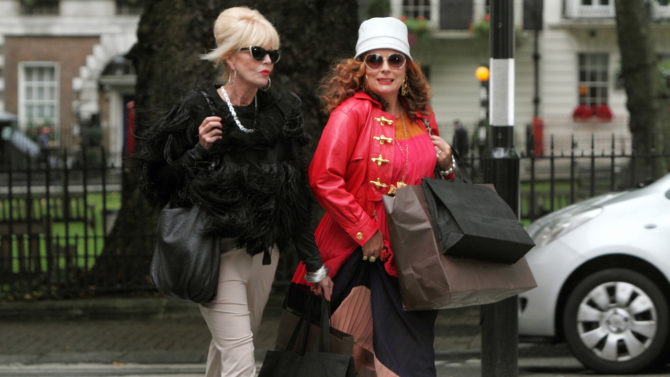 Fox Searchlight Pictures and BBC Films released the first trailer for Absolutely Fabulous: The Movie, which features the return of Jennifer Saunders and Joanna Lumley as Edina and Patsy.
The duo was featured in the BBC sitcom by the same name, which ran for an initial three season from 1992-1995. The trailer sees the ladies living the high life as they shop, drink and party their way around London's trendiest hotspots. After engaging in a media storm they flee to the French Riviera, where new crazier adventures ensue. Kate Moss also appears in the trailer providing a hilarious twist to the storyline. 
In addition to Moss, the trailer features cameos from a wide range of Hollywood celebrities including Mad Men's Jon Hamm, fashion designer Stella McCartney and comedian Rebel Wilson.
Mandie Fletcher is directing from a script by Jennifer Saunders. The producers are Jon Plowman and Damian Jones with Steve Milne, Christian Eisenbeiss, Christine Langan, Nichola Martin, Jennifer Saunders, Dawn French, and Maureen Vincent serving as executive producers.
Absolutely Fabulous opens in theaters July 22, 2016.