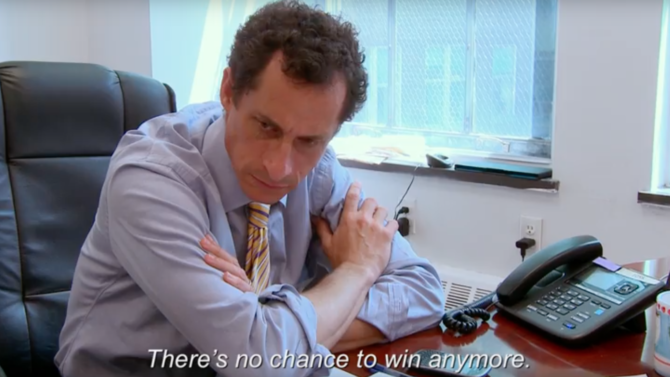 IFC films released Monday a brand new trailer for the highly-anticipated documentary Weiner. Directed by Josh Kriegman and Elyse Steinberg, Weiner goes inside Anthony Weiner's fall from grace in 2011 after tweeting an indecent photo of his private parts. The documentary also follows his run for New York City Mayor two years later.
"The punchline is true about me," Weiner says in the opening of the trailer, which won the documentary Grand Jury prize at this year's Sundance Film Festival. "I did the dumb thing but I did a lot of other things too."
The film tries to explore a deeper portrait of Weiner, capturing private talks with his staff and several public speeches. Kriegman, a former assistant to Weiner and Steinberg will also provide a behind-the-scenes look at the candidate's ludicrous mayoral campaign, during which several women came forward to confess online relationships with Weiner, known to them as "Carlos Danger."
Weiner opens in theaters on May 20, 2016.