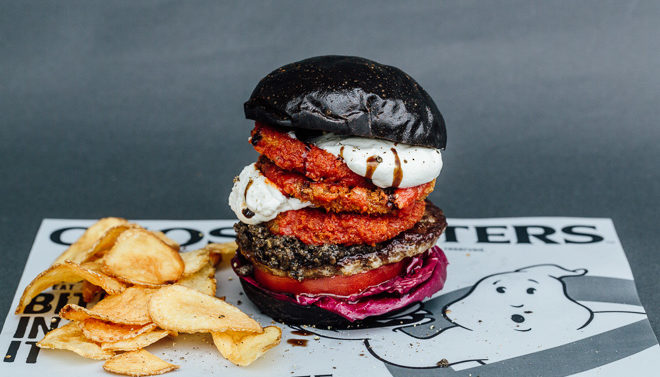 Celebrations for the upcoming Ghostbusters film are crossing over to Japan where J.S. Burgers Cafe has created a specialty menu to coincide with the release. The limited edition options are quite spooky, including the 'G.B. Burger' made with a black bun, seasoned meat patty, and black olive and anchovy paste. If fans want something a little more on the sweet side, there's a dessert burger named the 'Marshmallow Man' made of stacks on stacks of marshmallows, pieces of chocolate cookies, and strawberry syrup on top.
For a snack, their four locations will offer 'Black Chilli Chips' and a 'Slimer Smoothie' decorated with tiny burgers and colorful candy. These movie-themed goodies will be served from July 1 to September 30.
SEE ALSO Matthew Goode Joins the Cast of WGN Pilot 'Roadside Picnic'
For fans wanting to celebrate closer to home in the United States, The Coca-Cola Company is bringing back the Ecto Cooler beverage popular during the 1980's. They'll be available in 6-ounce juice boxes and 11.5-ounce thermal ink cans that turn the color of slime green when it's cold.
Paul Feig's Ghostbusters stars Melissa McCarthy, Kristen Wiig, Kate McKinnon and Leslie Jones 30 years after the original hit theaters.
The supernatural comedy premieres July 15.