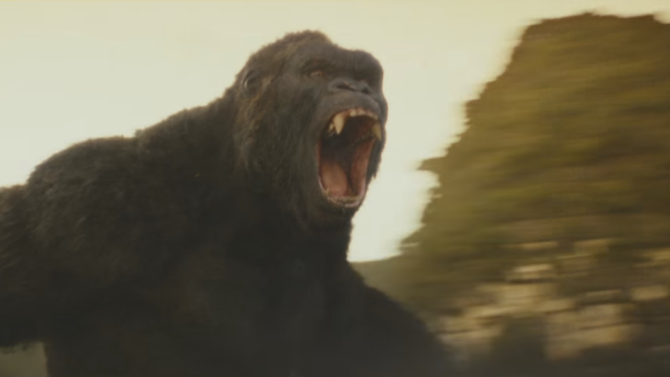 King Kong is mad, but wouldn't you be if some strange people with bombs showed up on your island? This is what plays out in the second trailer for Kong: Skull Island set to hit theaters on March 10, 2017. One thing you'll discover in this new footage from the action-packed drama is that there are more things to fear on that island than just the giant, scary gorilla. The team of explorers risking their lives to venture on the island better watch out for the skull crawlers!
"Your friend there can put that down," John C. Reilly tells Tom Hiddleston's Captain James Conrad about their guns in the trailer. Someone asks, "What the hell is this place?" Reilly responds, "That's Kong, he's king around here. Kong's a pretty good king, he keeps to himself mostly. But you don't go into someone's house and start dropping bombs unless you're starting a fight."
The Jordan Vogt-Roberts directed film also co-stars Brie Larson (Room, 21 Jump Street), Samuel L. Jackson (Miss Peregrine's Home for Peculiar Children), John Goodman (10 Cloverfield Lane), Corey Hawkins (Straight Outta Compton), John Ortiz (Silver Lining Playbooks), and Toby Kebbell (Warcraft).
Watch the full trailer below: