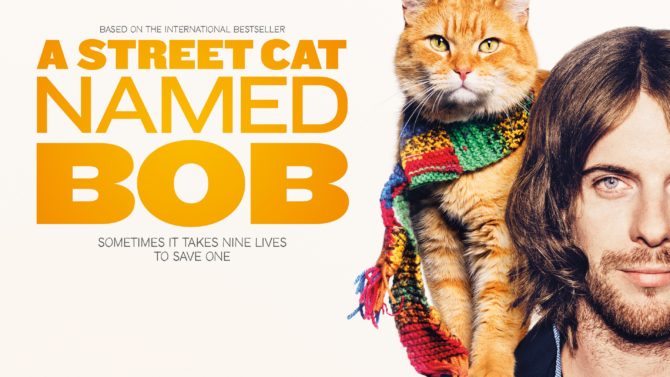 A man named James Bowen was lost to a life of drugs and homelessness. That was his reality until he met a stray ginger cat named Bob who saved his life and became his best buddy. This real-life love story between a man and a feline will play out on the big screen in A Street Cat Named Bob, set to hit U.K. theaters on November 4.
The film stars Luke Treadway as Bowen, and it is based on the best-selling book of the same name written by Bowen himself. Joanne Froggatt (Downton Abbey) co-stars as Bowen's support worker Val, and Anthony Head (Buffy the Vampire Slayer) plays Bowen's father, Nigel.
After trying to cast multiple cats for the role of Bob, the cat ended up playing himself for most of the film. "They had originally eight cats cast to play Bob and Bob wasn't supposed to be in the film," Bowen told the BBC. "I brought Bob along to the set and he basically became his own star in his own film."
SEE ALSO First Trailer for Tim Burton's 'Miss Peregrine's Home for Peculiar Children'
He added, "Five of the cats went back to Vancouver and three of the others stayed on for the other scenes because obviously Bob is my baby and I take care of him greatly so some other cats came in and helped Bob out. He just takes it in his stride. Knowing Bob and his wonderful ways I'm absolutely confident that he will broaden people's horizons. Luke and Bob have been getting on incredibly well so he's quite happy to ride on Luke's shoulders."
Dogs might be man's best friend, but cats are giving them a run for their money. Today, Bowen is drug-free and enjoys waking up to Bob by his side. He's a chart-topping book author, who writes both for children and adults about his adventures with Bob. With his fame and success, he focuses on helping the homeless, promote literacy, and animal welfare.
No U.S. premiere dates have been announced as of yet.