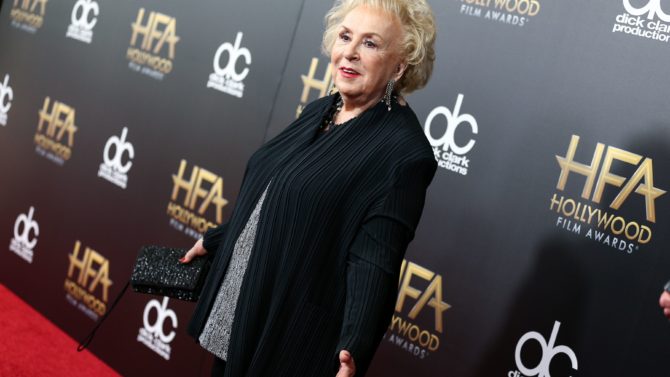 Everybody Loves Raymond actress Doris Roberts was remembered Monday during a public memorial tribute held at the Ambassador Theatre, where she appeared in 1972 in The Secret Affairs of Mildred Wild. Roberts died April 17 at age 90.
"Here's how good she was: She played the most intrusive, overbearing, noisy woman — always starting fights and whatnot and meddling in our business — and yet when I asked the fans who their favorite character was, all the time it was her," said Ray Romano, who played her TV son. "She was so good at portraying the love that was underneath."
Other speakers included CBS executive Les Moonves, Everyone Loves Raymond creator Phil Rosenthal, Frasier star David Hyde Pierce and Michael Cannata, the actress' son.
Romano went on to call her "the MVP of our cast" and a "second mom," who would kindly whisper "fabulous" in his ear after certain acting scenes.
Roberts won four Emmy Awards for her portrayal of Marie Barone on Everybody Loves Raymond, which ran from 1996-2005. She received a total of seven nominations as best supporting actress for the sitcom.
Roberts also was known for her role in the 1980s TV detective series Remington Steele. She appeared in a variety of movies, including The Rose, Remington Steele, National Lampoon's Christmas Vacation, The Taking of Pelham One Two Three and Madea's Witness Protection.
Roberts took acting classes until she was 89 and has four movies out this year.
"She never stopped," Romano concluded. "She would shame us with her energy and drive."