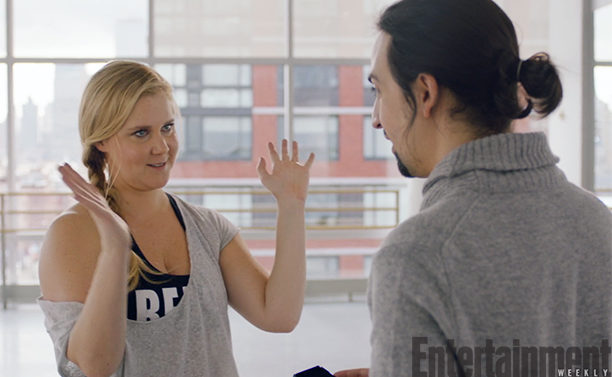 Amy Schumer is ready to take on Broadway. In a new episode of Inside Amy Schumer, the comedian wants to take her career to new heights with the help of Hamilton writer and star, Lin-Manuel Miranda.
"How hard is it to write a hip-hopera about historical wig and knee sock people?" the comedian says to Miranda, in a brand new clip released by Entertainment Weekly. "My sister and I saw [Hamilton] and we were flipping out but then I thought, 'I can do that.'"
Schumer then tries to impress Miranda by acting out every act of her hip-hopera. Musician Questlove also makes an a quick appearance to provide some beats.
Producer Kim Caramele told EW she was ecstatic when Miranda agreed to appear on the show. "He said yes and I thought he was kidding," said Caramele. "He couldn't have been nicer and more game. He has so few hours free! I was so grateful he was there."
Inside Amy Schumer returns for its fourth season on Comedy Central on April 21, 2016.