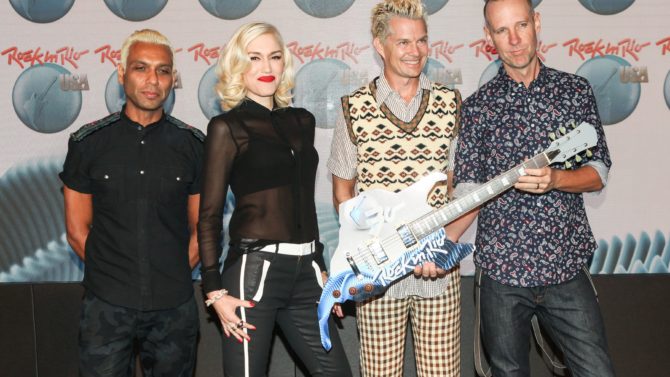 Tom Dumont, Tony Kanal and Adrian Young of No Doubt have joined forces with AFI frontman Davey Havok to form a brand new alternative rock band. The new group is being managed by Pat Magnarella, long-time Green Day manager. The band has already recorded an album and is seeking a label deal, Billboard reports.
The new partnership brings a formidable sales history. No Doubt has sold over 16 million albums in the United States since 1992 and AFI a solid 4.1 million since 1995, according to Nielsen Music.
No Doubt toured throughout 2015, with performances at Chicago's Riot Fest, San Diego's Kaaboo Festival and the Global Citizen 2015 Earth Day Concert. But during the latter half of the year, Gwen Stefani hired a new manager, Irving Azoff, and focused on her solo career and personal life.
In August, Stefani and husband Gavin Rossdale divorced after 13 years of marriage. She's kept busy by working on a brand new album This Is What the Truth Feels Like, due March 18.
This Friday, Stefani released a new single, Make Me Like You. The song appears to be about her new significant other, Blake Shelton, who she began dating in November.
Listen to the new track below: