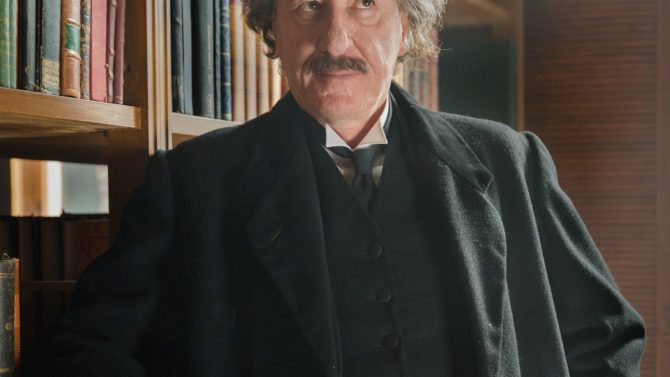 National Geographic Channel has released the first image of Academy Award-winning actor Geoffrey Rush in the role of Albert Einstein for their 10-episode anthology series Genius. The series is based on Walter Isaacson's 2007 biography entitled, Einstein: His Life and Universe. The series premiere episode will be directed by Ron Howard, making his scripted primetime drama debut.
Rush plays the famed scientist in his later years with newcomer Johnny Flynn playing Einstein in his younger years. Based on a press release from the network, each episode will explore Einstein's extraordinary scientific achievements, along with his volatile, passionate and complex personal relationships.
"The supremely talented Geoffrey Rush is dream casting for the role of Albert Einstein, and Johnny Flynn not only is an incredible talent but also bears more than a passing resemblance to Rush, said Carolyn Bernstein, executive vice president and head of global scripted development and production, National Geographic Channel in August. "We couldn't be more excited to get them to work with Ron and the rest of the team."
In the photo, Rush looks very convincingly like Nobel Prize-winning physicist from his mildly wavy hair right down to his period ensemble from the 1950's. The series is set to debut in 2017.