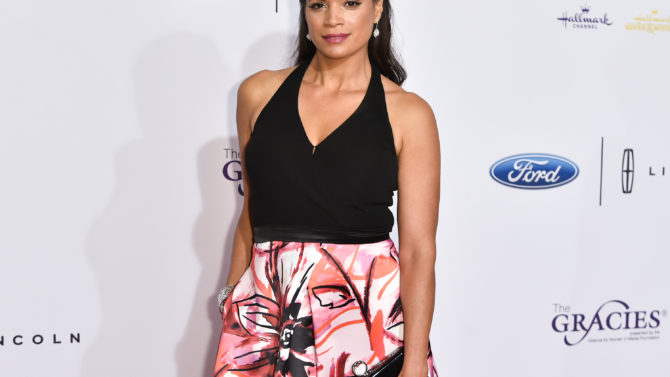 Fans of Jane the Virgin are just hours away from the season three premiere and Variety Latino is hoping to get viewers even more excited with a special interview with Andrea Navedo who plays Jane's (Gina Rodriguez) mom Xiomara. So much happened in the season two finale from Michael (Brett Dier) getting shot after his wedding to Jane to Xo finding out she was pregnant by her true love Rogelio's (Jaime Camil) arch nemesis Esteban (Keller Wortham). Looking forward into the season, there's been a lot of buzz about the episode when Rogelio's best friend Gloria Estefan finally comes to visit the show in an episode directed by Eva Longoria.
The biggest question about the premiere is when the show will pick-up? Navedo assures us we won't have to wait long at all for answers as she says, "Immediately after. It picks up right where it left off. We'll be going right into the Michael getting shot storyline."
At the same time that Michael was getting shot, Xo was finding out she was pregnant by Esteban. Where will the character be when the show comes back?
"I have to make some big life decisions, Navedo explained. "As you can imagine, it will not be easy for me or for any woman in that position. That's about all I can say! [laughs] I hate giving interviews sometimes because I can't give much information away. It's going to be important, though you'll see."
Even though Rogelio has moved on from Xo, he will certainly still be affected by the fact that she is pregnant from Esteban. The mother of his daughter could have been impregnated by nearly anyone yet she chose to bed his biggest enemy. How will he react?
"He takes it surprisingly well. Rogelio is a lot more mature than Xo, at least I think he is. There's always room for a character to grow and mature, and I think this is the case for Rogelio. You can't change the fact that a character did something, it's done. So what are you going to do with it? Are you going to fly off the handles or kill someone? So what it really comes down to is the most important person in this situation is Jane. So as the father of Jane, are you going to go against the mother of Jane? So I'm going to give Rogelio, the Latino male some credit."
Speaking of Jane, based on the timeline of the finale, she doesn't even know that her mother is pregnant. How will she take the news?
"She handles it pretty well, she said. "She's kind of used to her mom [behaving this way]. She'll be like, 'oh mom,' that sort of reaction. So yeah, she'll handle it well."
Is there any chance that Xo and Esteban might try to be together if they keep the baby?
"Not really, no. That was a real quick answer! The sympathetic character to me is Rogelio. I think he's so charming, funny, and handsome. As egotistical and self-centered as he is, he's got a good heart. So Andrea and Xo love Rogelio. I can't say the same for Esteban."
What are the chances that Xo and Rogelio might rekindle something?
"So far I haven't seen that yet. We're on friendly terms because the most important person is Jane. So that will be there for awhile and I'm not sure where they will go with that storyline yet. I do have an ex-lover coming on the scene, played by Ricardo Chavira will be playing him. So he'll be back in the picture. It'll be fun because he's a great actor. The three of us, Ricardo, Jaime and I shot together recently and he fit right into our Jane family. So we're excited to have him come play with us."
Finally, Rogelio's best friend Gloria Estefan and her husband Emilio come for a visit. Although no one will say exactly how they come in, Navedo promises fans are going to love it as much as they did.
"It was probably one of the most fun episodes we've shot this season. Having Gloria and Emilio on set was the highlight of the three seasons for us. We've had some amazing guest stars on the show, but for me, they were by far our favorite guests on the show. They're super humble people, super open, funny, witty, and intelligent. They were just so present and they brought this beautiful presence to the set. We were so excited to have them there on set. Even the next day after they left, the crew was still buzzing about their visit. They definitely left us in a reverie."
Adding, "I think fans will also enjoy the way they handled introducing her into the episode. It's kind of perfect and kind of seamless the way she comes into the scene in terms of the celebrity power and the way Rogelio would namedrop her. I won't tell you more than that but it's really cool the way she was written in."
Jane the Virgin returns for season 3 Monday night on The CW.