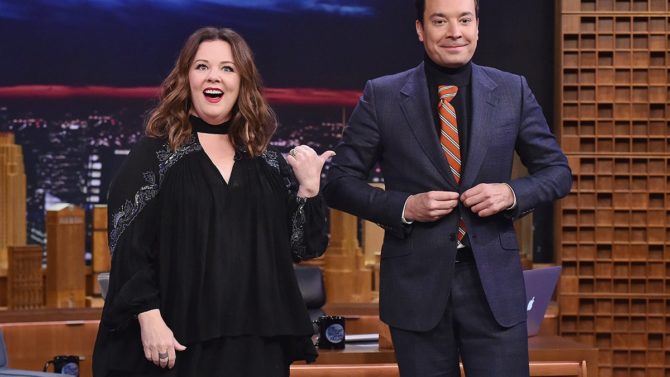 Melissa McCarthy slayed her Lip Sync Battle with Jimmy Fallon on Monday's Tonight Show. The comedian stopped by the show to promote her latest movie The Boss.
"I don't get nervous a lot, I'm pretty freaked out about crushing you," McCarthy said to Fallon before taking the stage.
Fallon, kicked things off with a rendition of Melanie's "Brand New Key" but McCarthy's DMX's "X Gon' Give It To Ya" left the crowd roaring.
For round two, Fallon channeled Zayn Malik's recent hit "Pillowtalk" but it was no match for McCarthy's final song "Colors of the Wind." "So I'm obviously going to close with a Pocahontas song track," she said. Watch the mic drop moment above.
McCarthy's new movie follows Michelle Darnell a business mogul jailed for insider trading. She's released six months later and forced to move in with an underpaid former employee (Kristen Bell), a single mother she used to torture. But not all hope is lost for Darnell, after bonding with Bell's characters daughter she decides to build a brownie empire.
The Boss hits theaters April 8.