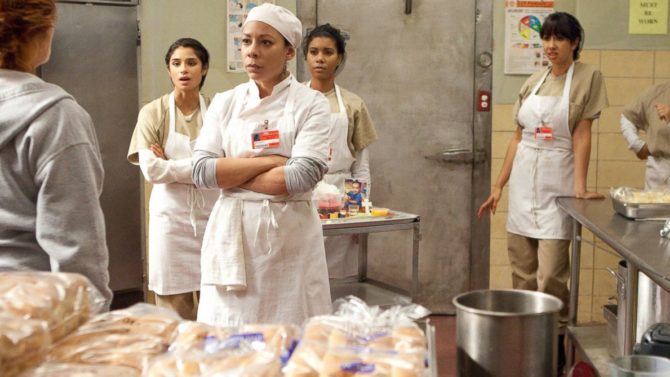 If you've ever wanted to dine like Lichfield's finest, look no further. Netflix is setting up an Orange is the New Black pop-up diner in Singapore. On June 16 and 17, you can sample high-end dishes that look like what you'd actually get served while enjoying the accommodations of a correctional facility. Singaporean chef Bjorn Shen will make Gloria (Selenis Leyva) and Red (Kate Mulgrew) take notes as he creates a special menu, including a dish that will confuse your eyes but not your taste buds.
"Since this is not real prison, I've made this dish look and feel like a Nutraloaf, but taste much better," Shen told Mashable. "Mine's made of mushrooms, cheddar, quinoa, pumpkin, and nori."
SEE ALSO WATCH: Full Trailer for Disney's 'Pete's Dragon'
Nutraloaf, also known as Prison Loaf, is usually served in prison as a punishment for assaulting prison guards or fellow inmates. Its texture is similar to a meatloaf but it can contain any number of mixed meats, vegetables, and grains including mechanically separated poultry.
Also on the menu will be a corn appetizer (with jalapeño, cheese, and lime) and "gruel" for dessert, which is a white chocolate-coconut pudding with almond crumble, according to People.com. All of this will be served to customers on plastic trays. But make sure to be on your best behavior or the Lichfield Cafeteria may not provide utensils.
Orange jumpsuits are not required, but reservations are. Only a limited number of walk-ins will be allowed.
Orange is the New Black season 4 will be available to stream via Netflix on Friday.