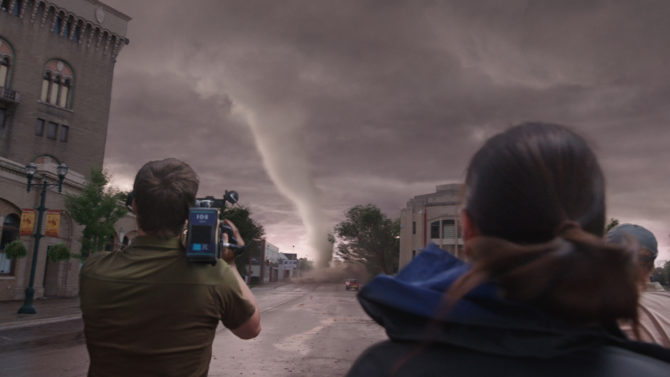 La escenas del nuevo tráiler de la película de acción 'Into the Storm' se ven aún más intensas y peligrosas de lo que esperábamos.
"Into the Storm" relata el desastre que pasa en el lapso de un solo día en el pueblo de Silverton, que es arrasado con una serie de tornados mortales. Aunque los expertos predicen que lo peor está por venir, la mayoría de los residentes tratan de encontrar refugio, mientras que otros corren hacia el vórtice, para capturar imágenes de una de las tormentas más salvajes que ellos han presenciado.
VER TAMBIÉN:  'Jupiter Ascending' trailer: Mila Kunis y Channing Tatum tratan de salvar el mundo
Si conocen un poco sobre el director Steven Quale, sabrán que podemos esperar buenas escenas de acción. Previamente, Quale dirigió la película "Final Destination 5," y también trabajó con el director James Cameron, como segundo director en las películas "Titanic" y "Avatar" — todo un experto con películas de tragedia.
Richard Armitage, Sarah Wayne, Alycia Debnam-Carey y Arlen Escarpeta forman parte del elenco.
Lo que distingue a esta película de otras historias sobre desastres naturales es que es contada a través de los ojos de los cazadores profesionales de tormentas, los aficionados en búsqueda de aventuras y los residentes valientes de Silverton.
Así que prepárense para ver el lado oscuro y extremo de la madre naturaleza.
"Into the Storm" sale el 8 de agosto.