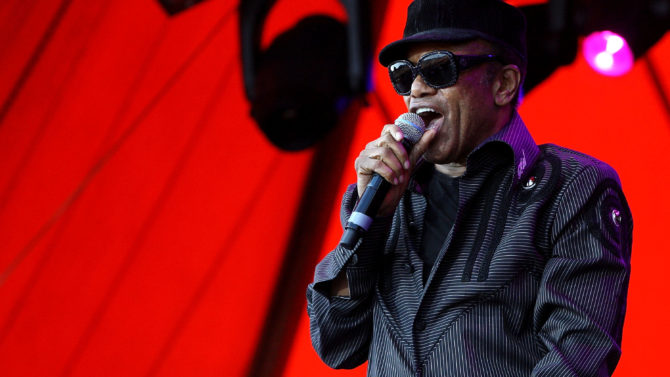 Se nos fue una leyenda del R&B y soul, Bobby Womack murió hoy a los 70 años.
La triste noticia fue confirmada por su representante y aunque el cantante sufría de enfermedades como diabetes, cáncer en el colon y presentaba señales de Alzheimer's aún no se confirma la exacta causa de su muerte.
El cantante empezó su carrera en la década de los 60's junto a sus hermanos Curtis, Harry, Cecil y Friendly Jr quienes conformaban el grupo llamado Valentinos. Uno de sus grandes éxitos incluye la canción "It's All Over Now," canción que luego los Rolling Stones harían famosa.
Tras la desintegración de los Valentinos, Womack se lanzó como solista en 1968 debutando su álbum "Fly Me to the Moon" entre otros discos de R&B.
VER TAMBIÉN: Muere Eli Wallack a los 98 años
Otro de sus grandes éxitos fue su canción "If You Think You're Lonely Now" en 1981 la cual debutó en la época que este sufría de adicción de drogas y solía someterse a centros de rehabilitación.

Pero fue en 2012 cuando su carrera revivió lanzando el álbum "The Bravest Man in the Universe" y actualmente estaba trabajando en un nuevo álbum titulado "The Best Is Yet to Come" que incluye duetos con Stevie Wonder y Snoop Dogg.
Entre otros de sus logros fue ser instalado en el Rock and Roll Hall of Fame en el año 2009. "Esto es igual de emocionante que ver a Barack Obama convertirse en el primer presidente afroamericano," dijo Bobby en su discurso.

VER TAMBIÉN: Muere Maya Angelou a los 86 años
Las reacciones de sus colegas no se han hecho esperar en Twitter.
El integrante los Rolling Stones Ronnie Wood tuiteó: "Estoy muy triste de escuchar sobre mi amigo Bobby Womack – el hombre que te hacía llorar cuando cantantaba ahora me trae lágrimas con su muerte."
"Descansa en paz Sr. Bobby Womack. Siempre serás uno de los grandes en mi libro. Nunca habrá alguien como tú," escribió el cantante de R&B Calvin Richardson.
El musicó y comediante Jay Lamont dijo: "Te extrañaré Bobby Womack. Gracias por darnos música extraordinaria y gracias por las conversaciones que tuvimos."
Descansa en paz, Bobby Womack.