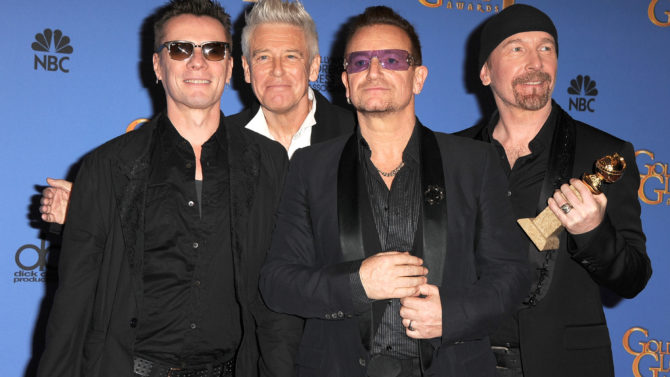 Luego de los altibajos que ha tenido este año U2, los integrantes de la banda irlandesa quieren comenzar el próximo 2015 con las mejores energías.
Y para eso ya dieron a conocer las fechas del tour 'Innocence + Experience' y estamos ¡muy emocionados! de ver nuevamente a la agrupación en vivo con The Edge, Larry Mullen, Jr, Adam Clayton y por supuesto Bono, que esperamos que a esas alturas ya esté completamente recuperado de su accidente en bicicleta.
Hasta el momento hay 55 shows confirmados en 19 ciudades de Norteamérica y Europa, comenzando el 14 de mayo en Vancouver para finalizar el 11 de noviembre en Paris.
Los tickets estarán disponibles desde el 4 de diciembre en una preventa para los socios del fan club registrados en la página web de la banda. 
Se espera que se agreguen más fechas para Asia, Sudamérica, Australia y otros territorios, dependiendo de cómo le vaya a la gira, ya que el disco "Songs of Innocence" ha tenido mucha controversia tras ser entregado en ITunes, lo que causó la molestia de algunos usuarios que no querían tener el disco.
La última gira de la banda fue de 2009 al 2001 con "U2 360° Tour", parte del álbum "No Line on the Horizon" donde vimos el escenario de 360 grados junto con "The Claw".
En sus previas giras los músicos batido todos los récords vendiendo millones y millones de tickets alrededor del mundo, así que a pesar del traspié con Itunes se espera que este tour también sea todo un éxito.
Aunque no sabemos detalles de cómo será el escenario, estamos seguros que nos sorprenderá como todos los grandes shows de esta banda formada en 1976 y que nos ha encantado a través de los años con temas como "One", "Where the Streets Have no Name", "Stay" y tantos otros más.
Aquí te dejamos las fechas de los conciertos, así que ¡prepárate para cantar!
NORTH AMERICA DATES
May 14 – Vancouver (Rogers Arena)
May 15 – Vancouver (Rogers Arena)
May 18 – San Jose (SAP Center at San Jose)
May 19 – San Jose (SAP Center at San Jose)
May 22 – Phoenix (US Airways Center)
May 23 – Phoenix (US Airways Center)
May 26 – Los Angeles (Forum)
May 27 – Los Angeles (Forum)
May 30 – Los Angeles (Forum)
May 31 – Los Angeles (Forum)
June 12 – Montreal (Bell Centre)
June 13 – Montreal (Bell Centre)
June 24 – Chicago (United Center)
June 25 – Chicago (United Center)
July 6 – Toronto (Air Canada Centre)
July 7 – Toronto (Air Canada Centre)
July 10 – Boston (TD Garden)
July 11 – Boston (TD Garden)
July 18 – New York City (Madison Square Garden)
July 19 – New York City (Madison Square Garden)
July 22 – New York City (Madison Square Garden)
July 23 – New York City (Madison Square Garden)
EUROPE/UK DATES
Sept. 4 – Turin, Italy (Pala Alpitour)
Sept. 5 – Turin, Italy (Pala Alpitour)
Sept. 8 – Amsterdam (Ziggo Dome)
Sept. 9 – Amsterdam (Ziggo Dome)
Sept. 16 – Stockholm, Sweden (Globe)
Sept. 17 – Stockholm, Sweden (Globe)
Sept. 24 – Berlin (O2 World)
Sept. 25 – Berlin (O2 World)
Oct. 5 – Barcelona (Palau Sant Jordi)
Oct. 6 – Barcelona (Palau Sant Jordi)
Oct. 13 – Antwerp, Belgium (Sportpaleis)
Oct. 14 – Antwerp, Belgium (Sportpaleis)
Oct. 17 – Koln, Germany (Lanxess Arena)
Oct. 18 – Koln, Germany (Lanxess Arena)
Oct. 25 – London (O2)
Oct. 26 – London (O2)
Oct. 29 – London (O2)
Oct. 30 – London (O2)
Nov. 6 – Glasgow (The SSE Hydro)
Nov. 7 – Glasgow (The SSE Hydro)
Nov. 10 – Paris (Bercy)
Nov. 11 – Paris (Bercy)