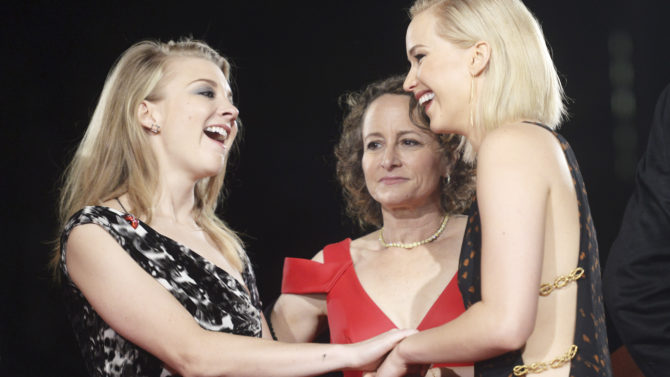 La premier de The Hunger Games: Mockingjay – Part 2 se llevó a cabo el 5 de noviembre en Londres y este fue el lugar donde Jennifer Lawrence y Natalie Dormer se besaron accidentalmente luego de que la protagonista del filme sorprendiera a Dormer por detrás durante una entrevista. "Ay disculpa, nos acabamos de besar en cámara y me gustó", dice Lawrence sonriendo antes de seguir caminando por la alfombra roja luego del cándido incidente:
Lawrence, Dormer, Liam Hemsworth, Josh Hutcherson, Elizabeth Banks y otros actores que forman parte de la última entrega de esta franquicia de acción y aventura han estado en plena promoción de su película haciendo paradas en ciudades como Berlín y Los Ángeles.Variety Latino tuvo la oportunidad de asistir a una conferencia de prensa junto a los protagonistas donde Lawrence habló sobre su potente ensayo acerca de la desigualdad de salarios entre hombres y mujeres en Hollywood.
En esa oportunidad aclaró que su escrito no se trataba de dinero sino más bien de cómo sería percibida por Hollywood si pidiera mayores salarios en cada uno de sus proyectos: "Esperaba solamente escribir sobre mis propios miedos acerca de cómo voy a ser vista en la industria o qué van a pensar de mí. ¿Cómo me juzgará la gente? Obviamente los hombres no piensan de esa manera", sentenció la intérprete.
The Hunger Games: Mockingjay – Part 2 se estrena en cines el 20 de noviembre.