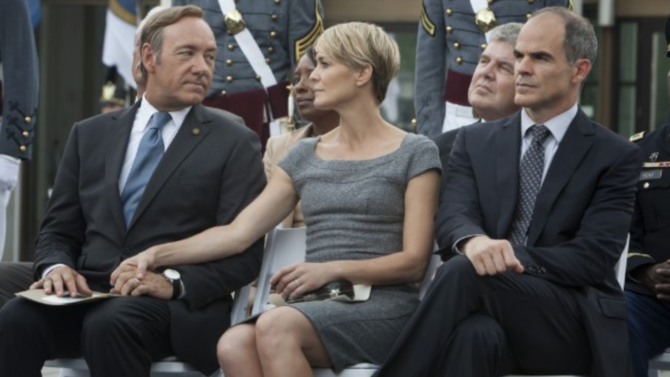 Tendremos Frank Underwood por mucho rato, ¡Variety confirma que "House of Cards" tendrá cuarta temporada! La serie original de Netflix protagonizada por Kevin Spacey y Robin Wright regresará con nuevos episodios en 2016, la producción de la nueva temporada iniciaría tan pronto este verano.
"House of Cards", basada en una mini-serie de BBC con el mismo nombre, se ha convertido en una de las series más vistas de la plataforma digital pues con tres temporadas, Spacey y Wright han ganado Golden Globes por sus personajes. Actualmente "House of Cards" se encuentra en su tercera temporada donde – spoilers – Underwood se apodera de la Casa Blanca y con el poder que se le otorga hace de las suyas destruyendo todo y a todos que le impidan hacer lo que él quiera.
Lo cierto es que tras esta noticia, muchos estarán felices porque veremos más del malvado Frank Underwood, incluyendo el mismo Barack Obama quien se ha declarado fan de la serie, de hecho, dijo a través de un video que él le había enseñado todo a Underwood.
No esperábamos menos del Presidente Underwood, no se perdería la oportunidad de ser parte de las próximas elecciones presidenciales del 2016. #Underwood2016