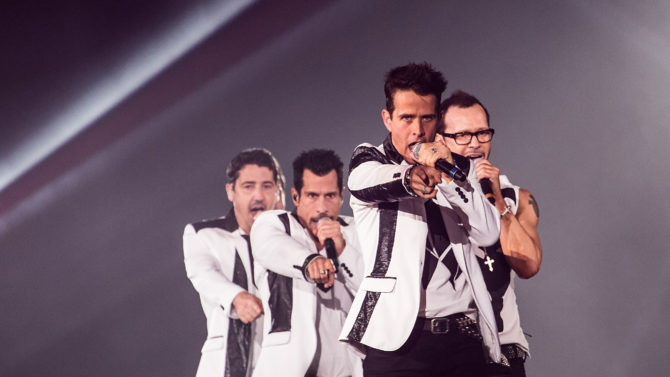 Los integrantes de New Kids on the Block, Donnie Wahlberg, Joey McIntyre, Danny Wood y Jonathan Knight, regresarán para la segunda temporada de su reality show titulado Rock This Boat: New Kids on the Block.
La primera temporada contó con ocho episodios y siguió las aventuras del grupo en un crucero junto a docenas de fans. El programa también llevó a la audiencia tras bastidores, lugar en donde se presenciaron momentos íntimos de los miembros de la agrupación.
VER TAMBIÉN New Kids on the Block tendrán reality show
En esta segunda temporada que acaba de ser renovada, los chicos estarán nuevamente en un crucero pero el espectáculo será aún más grande y revelador. Se espera que las cámaras no solo estén en el backstage, sino dentro de la cabina de cada miembro para así capturar las bromas entre ellos y sus momentos privados.

"Estamos muy contentos de poder ser parte de una segunda temporada que se enfocará en nuestra increíble relación con nuestros fans – los mejores fans en la historia de la música", dijo Wahlberg en un comunicado de prensa. 

El canal de televisión Pop, contrató a cinco "Blockheads", la forma en que se les conoce a los fanáticos de la agrupación, como consultores para la serie. Rock This Boat: New Kids on the Block es producido por Jarrett Creative Group en asociación con Donnie D. Productions. Por su parte, Wahlberg, Julie Insogna Jarrett y Seth Jarrett son los productores ejecutivos.
La segunda temporada de Rock This Boat: New Kids on the Block se estrenará a principios de 2016 y será transmitida a través de Pop.