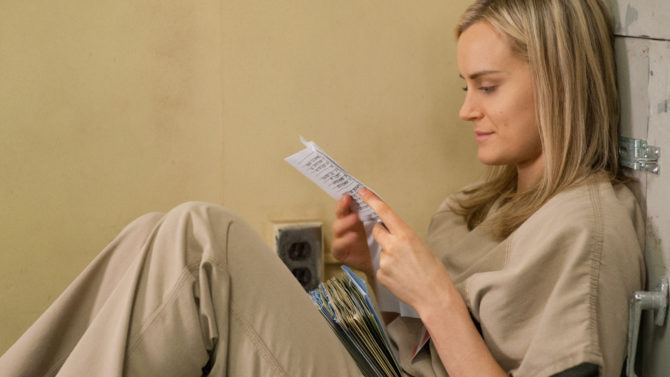 Las mujeres de Litchfield están listas para regresar a nuestras vidas porque ya se dio a conocer la fecha de estreno de la 3ra temporada de "Orange is The New Black".
Ha pasado mucho tiempo (casi un año) desde que conocimos lo último de esta serie creada por Jenji Kohan y que trata sobre la vida de un grupo de mujeres condenadas a prisión.
En el último episodio de la 2da temporada llamado vimos a Red (Kate Mulgrew) recuperarse luego de que fuera golpeada por su archienemiga Vee (Lorraine Toussaint) y los oficiales culpan a Crazy Eyes (Uzo Aduba)…pero se darán cuenta que todo es una trampa.
Por otro lado, Piper Chapman (Taylor Schilling), quiere dejar exponer las malversaciones de fondos de la prisión y le entrega información a Caputo (Nick Sandow) a cambio de que detengan su traslado a Virginia.
Caputo acusa a Fig (Alysia Reiner) quien es despedida y queda él a cargo, pero algo nos dice que su reinado no durará mucho…
Al tener a todos en contra Vee logra salir de prisión pero en la calle es atropellada por Rosa (Barbara Rosenblat), la prisionera que estaba con cáncer y que le quedaban pocos días de vida, quien escapa con la ayuda de Morello (Yael Stone).
Como Caputo no se destacó en su trabajo, con dos prisioneras fuera del recinto, es probable que no siga e su posición…¿Volverá Fig? o ¿llegará alguien peor? Ya supimos que Vee volverá a la serie ¿Se vengará de sus enemigos?
El anuncio del estreno nos tiene muy emocionados y elenco del show está que brinca en una pata.
No se pierdan la 3ra temporada de "Orange is The New Black" el 12 de junio por Netflix.