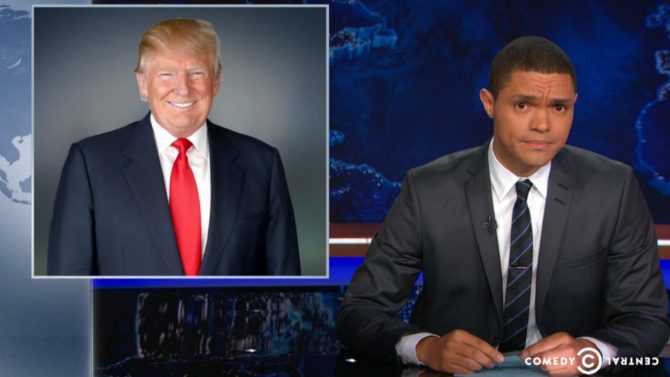 Trevor Noah comparó a Donald Trump con Jacob Zuma, presidente de Sudáfrica, en The Daily Show. Al parecer el primer mandatario de ese país también se ha manifestado de forma peyorativa sobre los inmigrantes diciendo que estaban involucrados en actividades criminales:
"Yo sé que los comentarios [de Trump] acerca de los inmigrantes han molestado a algunas personas", dijo el animador de The Daily Show, "pero para mí, como africano, hay algo familiar que me hace sentir en casa".
Noah dijo que ambos políticos tenían un discurso de "xenofobia muy liviana con un toque de diplomacia" y explicó que el magnate era un buen candidato, solo que estaba en el continente equivocado. El conductor aprevechó la oportunidad para compararlo con otros líderes africanos y hasta con el ex dictador de Libia, Muammar Gaddafi.
Trevor Noah ha tenido un buen debut como presentador de este show de Comedy Central. Ha recibido buenas críticas por parte de la audiencia y excelentes números de rating.
Acá puedes ver el gracioso video: