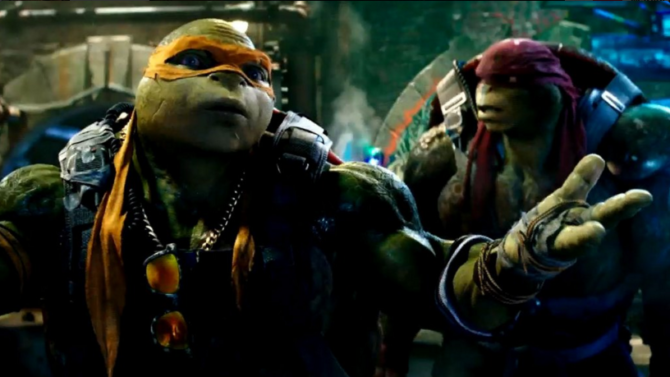 ¡Cowabunga! Este lunes, desde lo más profundo de las alcantarillas de la ciudad, salió el nuevo tráiler de la película Teenage Mutant Ninja Turtles: Out of the Shadows.
Con la música de Beastie Boys y su tema "No Sleep Till Brooklyn", el nuevo adelanto de esta secuela nos reúne nuevamente con Michelangelo, Donatello, Leonardo, y Raphael, estas cuatro tortugas mutantes que tendrán que defender a Nueva York de peligrosos villanos.
La bella Megan Fox y el cómico Will Arnet son los protagonistas de carne y hueso de esta cinta. Stephen Amell se incorpora al elenco en el papel de Casey Jones.
La sinopsis de la película asoma que el villano conocido como Shredder unirá fuerzas esta vez con un maquiavélico grupo que tiene la intención de dar rienda suelta a un plan para dominar el mundo. Este vil equipo está conformado por el científico Baxter Stockman, interpretado por Tyler Perry, y sus dos secuaces, Bebop y Rocksteady, encarnados por Gary Anthony Williams y la estrella de la WWE, Stephen "Sheamus" Farrelly respectivamente.
Mientras las tortugas se preparan para luchar contra Shredder y su nuevo combo, también se verán cara a cara con el infame Krang, uno de los malvados más famosos de la caricatura en la que está basada este filme. El actor y comediante Fred Armisen es quien hace la voz del villano.
La película dirigida por David Green y producida por Michael Bay llega a cines el 3 de junio.