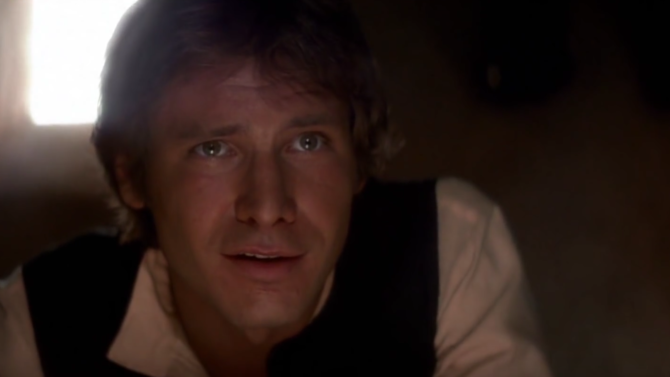 ¡El día de Star Wars está que arde este año! Hoy ha pasado de todo, Daisy Ridley felicitó a todos los fanáticos de la saga desde el set de grabación del episodio 8. Lin-Manuel Miranda cantó la nueva "Cantina Song" junto a J.J. Abrams, director de The Force Awakens y, por si fuera poco, el director Christopher Miller publicó en su Twitter un teaser de la película sobre el personaje de Han Solo, personaje interpretado por Harrison Ford en la trilogía original.
¿Estás perdido? No entiendes de qué trata el adelanto. Ok, aquí te damos luz. Lo que ves arriba es la pistola DL-44, arma de preferencia de Solo con la cual se defendía a capa y espada de Storm-Troopers y demás amenazas.
Acá puedes ver el armamento en acción en esta clásica escena de Star Wars: A New Hope donde el personaje tiene un pequeño percance con uno se estos seres galácticos:
Esta película, que aún carece de título oficial, estará codirigida por Miller y Phil Lord, dúo responsable de taquilleros éxitos como 21 Jump Street y The LEGO Movie.
La película invadirá los cines en 2018 y contará el origen de este cazarrecompensas, quien se convirtió en uno de los personajes más adorados de esta lejana galaxia. Todavía no se sabe quién será el afortunado de interpretar a esta versión joven de Solo en este nuevo proyecto cinematográfico.