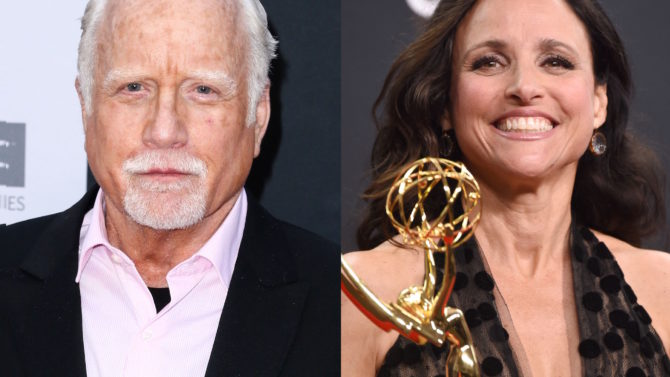 Podrán tener un apellido muy similar, pero Richard Dreyfuss y Julia Louis-Dreyfus no son padre e hija, a pesar de lo que los usuarios de Twitter piensan.
Luego de que la protagonista de Veep revelara al final de su divertido y emotivo discurso de aceptación al ganar el Emmy como Mejor actriz de una serie de comedia que su padre había fallecido el pasado viernes, varios usuarios de Twitter se volcaron a la red social para lamentar la muerte del actor Richard Dreyfuss, a quien confundieron con el padre de la actriz.
VER TAMBIÉN Muere Charmian Carr, de 'The Sound of Music', a los 73 años
Fue el mismo Dreyfuss, conocido por películas como Jaws y Close Encounters of the Third Kind, quien confirmó a través de Twitter que se encuentra vivo y sano, luego de ver los mensajes de condolencias por su supuesta muerte.
"De hecho no soy el padre de Julia Louis-Dreyfus. Pero realmente aprecio todos los tuits", escribió
VER TAMBIÉN Las mejores reacciones en las redes tras la derrota de Beyoncé en los Premios Emmy
William Louis-Dreyfus, el verdadero padre de la actriz, era un exitoso empresario con una fortuna estimada en los 3.4 billones de dólares, de acuerdo a la revista Forbes.