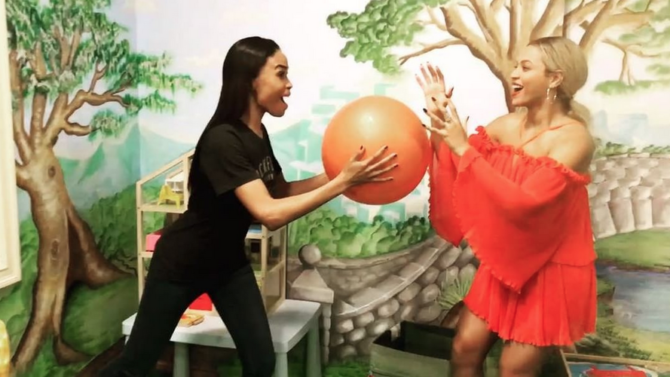 El #MannequinChallenge se ha apoderado de Internet. El reto, el cual inició recientemente en las escuelas superiores, consiste en mantenerse inmóvil por varios segundos —quedando como un maniquí—, mientras alguien graba un video. Al clip luego se le agrega música y se comparte en las redes.
Y como era de esperarse, ya son varios los famosos que se han unido a esta tendencia viral. Beyoncé, Kelly Rowland y Michelle Williams aceptaron el reto de manera muy juguetona.
En el clip, Williams "le lanza" una pelota a Bey, mientras Rowland hace como que les va a pegar con un globo alargado, todo mientras se escucha el tema "Every Ghetto, Every City" de Lauryn Hill. Las inseparables amigas grabaron el video durante la fiesta de cumpleaños del hijo de Rowland, Titan, de 2 añitos.
Otro que no se pudo resistir a este trend fue Kevin Hart, quien compartió un cómico clip filmado en un gimnasio. Junto al comediante de 37 años aparecen cinco hombres, entre ellos entrenadores y productores, que se "congelan" en poses de levantamiento de pesas o ejercicios.
VER TAMBIÉN Kevin Hart y Jimmy Fallon recorren casa embrujada [VIDEO]
La fiebre de este reto también llegó hasta los estudios de Dancing With the Stars. El video de la majestuosa producción lo compartió la gimnasta Laurie Hernández a través de su cuenta de Instagram.
Los jugadores, entrenadores y ejecutivos de los New York Giants también aceptaron este reto y grabaron un video desde los vestidores.
El equipo de football americano colegial los Utes de la Universidad de Utah no se quedaron atrás.
Y tú, ¿ya te uniste al #MannequinChallenge?