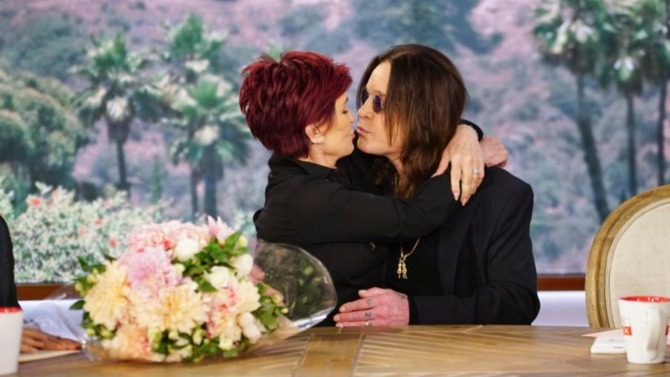 Parece que las tiempos turbulentos en el matrimonio conformado por Ozzy Osbourne y Sharon Osbourne han quedado atrás.
Este viernes 7 de octubre, el rockero irrumpió sorpresivamente en el set del show de televisión The Talk, en el que su esposa es co-conductora, para llevarle un ramo de flores mientras de fondo sonaba su tema"Crazy Train" .
VER TAMBIÉN Sharon Osbourne piensa que Donald Trump es fuente de diversión
Sharon no tenía idea y la cámara captó su cara de sorpresa cuando Ozzy ingresó para darle las flores como adelanto de su cumpleaños que será el próximo domingo 9 de octubre.
La reacción de la presentadora fue muy cariñosa, y hasta le dio un gran abrazo y beso frente a todos y a los televidentes.
Pero eso no fue todo."Feliz cumpleaños, querida!, le dijo Ozzy mientras sacaba una pequeña cajita de su bolsillo. "¡Tengo otro regalo para ti!"
"Espera, ¿qué está pasando aquí?", le respondió su esposa. Y Ozzy la sorprendió aún más con un nuevo anillo de boda.
Sharon y el vocalista de The Black Sabbath atravesaron este año una crisis en su matrimonio de 33 años de duración en el procrearon tres hijos, Kelly, Jack y Aimee Osbourne.