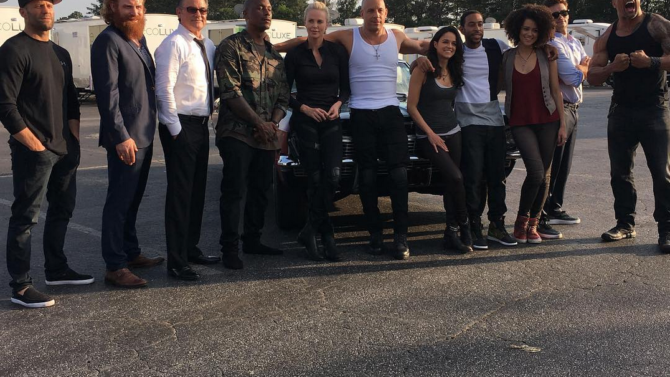 The shooting of Fast 8 is in full swing and Vin Diesel is giving us a sneak peek into their adventures via Instagram. In the latest photograph released over the weekend, you can see some known faces from other series installments including Diesel, Michelle Rodriguez, Dwayne "The Rock" Johnson, Jason Statham, Tyrese Gibson, Kurt Russell and Ludacris, as well as new faces Charlize Theron, Scott Eastwood, and Kristofer Hivju.
"Many of the crew members who have worked on several of the past Fast films are here again to help us make something special," Diesel posted on Instagram two weeks ago. "One of them at the end of the week came up to me and said, 'Wow, what we are capturing on film is excellent'… And then looked at me and said, 'Paul would be proud'."
As the cast prepares to celebrate the 15th anniversary of the franchise, they've dubbed F8 (pronounced: fate) a tribute to their former co-star Paul Walker who perished in an automobile accident in 2013. This will be the second film in the franchise in which Walker will not star, although his co-stars promise his presence will be felt. Rodriguez told People F8 would be going back to focusing on street racing over special effects and huge action sequences to honor Walker.
SEE ALSO Megan Fox Talks 'Ninja Turtles' And Her Return to 'New Girl' Next Season
Walker's legacy continues on through his daughter Meadow and through the continued success of the franchise starring his close friends and his brother Cody. The newest image proves the dedication of the cast and crew to be even more fast and furious than ever before.
Fast 8 is slated to hit theaters April 14, 2017.