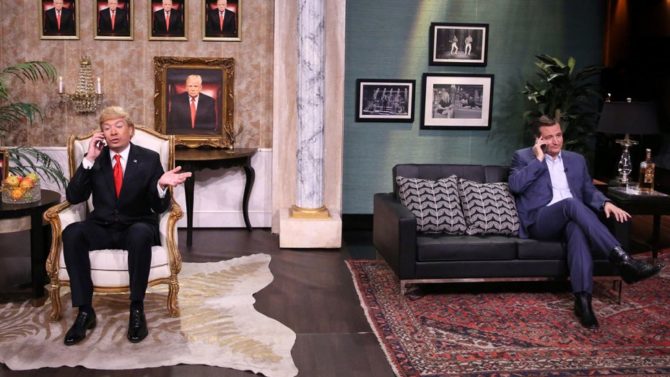 Appearing on The Tonight Show with Jimmy Fallon on Thursday, Ted Cruz received a surprise phone call from Donald Trump, impersonated by Fallon.
"Congratulations. You've just been called by Donald Trump," said Fallon, who called Cruz to help him practice for his appearance on the Tonight Show with a pre-interview.
"Well, that's a very generous offer, Donald," Cruz said. "I appreciate you being the bigger man."
"Oh, I'm the bigger man. With the bigger hands. And the bigger," said Fallon as Trump. "You can't see me, but I'm pointing at my Trump Tower."
Cruz responded, "I'm really glad not to be on FaceTime right now."
Trump didn't waste much time before bringing up Cruz's controversial comments on "New York values."  
To which Cruz replied: "Look, Donald, I'm not going to pander to New Yorkers," said Cruz. "I love New York City. It is the greatest city in the world with the best-looking audiences in the world, so when I said 'New York values,' I was merely trying to say that I value New York — except I was saying it backwards, the way Yoda would say it."
Fallon's Trump also offered Cruz a few tips to make his stay in New York a bit more pleasant. "First, if you're on the street, walk fast. No one likes a slow walker. Are you writing this down?" Trump asked.
"Hold on. Let me get my pen," Cruz replied while reaching for a bottle of liquor instead.
Fallon ends the skit by lip syncing to Rihanna's "Work" as Trump. Watch the video above.